Last Visited »
Hurricane Irma
As we continue our recovery and cleanup efforts, please visit the Emergency website for the latest information on openings and closings in Miami-Dade County.
Real Estate Data
Conditions in the real estate market have a significant effect on the local economy. In addition to directly employing thousands of workers in real estate sales and finance, strength or weakness in this market affects construction activity, employment in the building trades and directly or indirectly related occupations in architecture, engineering, manufacturing, as well as others.
Real Estate Market Briefing
The Real Estate Market Briefing provides a general overview of current conditions in residential and commercial real estate. These reports include information on current trends in existing home sales, home prices, residential building permits, commercial lease and vacancy rates for office, industrial and retail space, and changes in the local inventory of commercial space.
The briefings analyze factors currently affecting the sector and the near-term economic outlook.
The latest profile (4.88 MB), covering the 4th quarter of 2016 reflects the following:
Residential:
Rent, as a share of household income is much higher (and in some cases double) than the share nationally and the average share of the 25 largest counties.
Sales of single-family homes in Miami-Dade slowed 1.3% and sales of condominiums and townhomes slowed 17.5% year over year.
Even though sales in both market segments slowed, prices in the single family market were up 14.1% and in the condo/townhouse were up 6.1% year over year.
Rents in the local single family home market as a share of local monthly median household income were triple the ratio calculated nationwide.
Rents in the local multifamily market as a share of local monthly median income were two-and-a-half times higher than the national average.
Values in the lowest tier (a third of home sales) of the market, by value, are appreciating the most according to the S&P Case-Shiller index for the Miami-Fort Lauderdale Metropolitan Area.
In the lowest tier, homes valued below $243,000, values appreciated 15.1% year over year. In the highest tier, homes valued above $363,000, values were up 4%.
The numbers of issued building permits has slowed precipitously over the last two years, most likely as a consequence of overbuilding in the luxury condo market.
Commercial:
Vacancy rates declined modestly in office and industrial space and increased modestly in retail space.
Lease rates were up in all four segments of the commercial market, office, industrial, shopping-center retail, and stand-alone retail.
On a year-over-year basis construction was up 41.7% in the office market, 226% in the industrial market, 9.5% for shopping centers, and 122% in stand-alone retail.
Back to Top
Miami-Dade Housing Market Report
The Housing Market Report is released at irregular intervals between the full quarterly real estate briefings and does not include commercial real estate data.
Back to Top
Foreclosure Trends and Patterns
According to 2013 first quarter data obtained from RealtyTrac, foreclosure filings in Miami-Dade County remain high.
There were 3.6 Real Estate Owned (REO) foreclosures per 1,000 housing units in the County. This represents a 4% increase from the first quarter of 2012.
View maps of 2013 first quarter foreclosure data, by Zip code in County commission districts.
Read more about foreclosures.
Back to Top
More Housing Reports
At-a-Glance Reports
2009: Residential Foreclosures
What happened in the housing market after the frenzy that climaxed in 2006? A recent study of residential foreclosures reveals the trends in actual foreclosures and case filing across all municipalities and the County itself.
2008: Housing Vacancies
This was a critical time in the housing market because trends that may have otherwise been significant in their own right become magnified in their importance due to the overall market conditions in the financial industry as a result of the mortgage crisis.
2008: Housing Affordability
Housing affordability in Miami-Dade County is currently one of the most pressing issues for households and politicians alike. Although finding housing that is affordable for most County residents has been a challenge for many years, it has become particularly serious since the rapid rise in home values that began in 2000-2001.
Data Flash Reports
Research Notes on Economic Issues
At the request of the Board of County Commissioners, staff provided an assessment of the impacts from foreign investor participation in the local real estate market and the access to homeownership for first-time buyers.
The key findings from the analysis indicate that:
Domestic first-time buyers are currently at a competitive disadvantage in the residential market;
A widening gap has emerged between the volume of sales to domestic first-time homebuyers and sales to mainly foreign investors; and
Investors' participation in the residential market has supported the recovery of the real estate sector at a critical time for the sector and the broader economy.
Back to Top
If you cannot view PDF

files, you can download
Acrobat Reader
for free from Adobe Systems, Inc. In order to use PDF files, you must have Acrobat installed on your computer.
Page Last Edited: Fri Jun 16, 2017 3:24:30 PM
business
Sign up for Economic Reports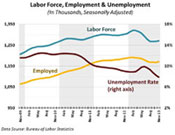 Sign up to receive e-mailed Economic Development reports produced by Miami-Dade County.
You are now leaving the official website of Miami-Dade County government. Please be aware that when you exit this site, you are no longer protected by our privacy or security policies. Miami-Dade County is not responsible for the content provided on linked sites. The provision of links to these external sites does not constitute an endorsement.

Please click 'OK' to be sent to the new site, or Click 'Cancel' to go back.