"Local Flavor: Recipes Raised in the Florida Redland" cookbook hits shelves
Cookbook to promote Redland Raised produce through original recipes from local farmers, growers and residents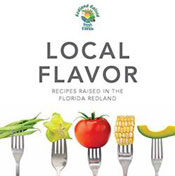 (MIAMI, November 18, 2013) – Just in time for the holiday shopping season, a new cookbook, "Local Flavor: Recipes Raised in the Florida Redland," is hitting shelves that highlights the plentiful array of produce grown right in Miami-Dade County's backyard.
Proceeds from Miami-Dade County's cookbook will help fund the Redland Raised promotional campaign, which champions local produce as well as the local economy. Local agriculture accounts for more than $2.7 billion in economic impact to Miami-Dade County each year.
"For the local agricultural industry, the Redland Raised brand provides recognition. It lets consumers know they're buying local – that it's straight from the fields, it's fresh and it's wholesome," said Charles LaPradd, Agricultural Manager, Miami-Dade County Regulatory and Economic Resources Department, and the brainchild of the book. "The Local Flavor cookbook will help to expand that recognition," he added.
Within its attractive and colorful 74 pages, readers will be tempted by local favorites like a delicious pie from Burr's Berry Farm, a quick weeknight side dish from television Chef Pepín, and a luscious Robert Is Here milkshake. Other original recipes are included from Redland farmers, growers and residents.
"You'll find everything from green beans, tomatoes, squash and other grocery store staples, to exotic black sapote, canistel and our native seagrape, in recipes that run the full gamut from appetizers to main dishes, sides, desserts and drinks," said Margie Pikarsky, organic grower and recipe contributor, about the book's recipes.
The Executive Director of the Dade County Farm Bureau Debbie Brady encouraged the bureau's Women's Committee members to share their favorite dishes. "The best part is it's from farm to table, in keeping with the 'local' trend," Brady said.
"Local Flavor: Recipes Raised in the Florida Redland" is available for purchase from local farms, grower associations and produce stands in southern Miami-Dade County. It is also available online at http://parkstore.miamidade.gov.
To get a small taste of "Local Flavor: Recipes Raised in the Florida Redland," see the Avocado Nut Bread sample recipe below.
Avocado Nut Bread by Leila Werner
Ingredients
2 cups all-purpose flour
1/2 teaspoon baking powder
1 teaspoon baking soda
1/2 teaspoon ground cinnamon
1 teaspoon salt
1/3 cup vegetable oil

1 teaspoon vanilla
1/3 cup water
1 1/3 cups granulated sugar
2 large eggs
1 cup ripe avocado, mashed
1/2 cup pecans, chopped
Instructions
Sift flour, baking powder, baking soda, salt and cinnamon together. Set aside.
Grease a 9 x 5-inch loaf pan and set aside.
In a large mixing bowl, beat together eggs, sugar, vegetable oil and vanilla until light and fluffy. Fold in mashed avocado and blend slightly. Fold in flour mixture and water alternately. Fold in nuts. Blend well but do not overbeat.
Pour into greased loaf pan. Bake in a preheated 350 degree oven for approximately 55-60 minutes or until tested done. Cool 10 minutes, then remove loaf to a wire cake rack to cool completely.
Local Flavor: Recipes Raised in the Florida Redland was partially funded through a Specialty Crop Block Grant from the U.S. Department of Agriculture in conjunction with the Florida Department of Agriculture and Consumer Services. It was made possible with the support of Miami-Dade County Mayor Carlos A. Gimenez; the Board of County Commissioners; Deputy Mayor and Regulatory and Economic Resources Department Director Jack Osterholt; Community Information and Outreach Director Henry Sori; and the generous help of Trish Tienstra, who collected many of the recipes.