Miami-Dade's Cooperative Extension Master Gardener volunteer program makes Miami a greener place to live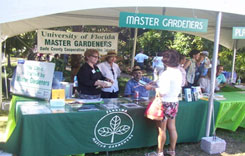 (MIAMI, January 3, 2014) – The UF/IFAS/Miami-Dade's Cooperative Extension conducts outreach efforts to educate residents unaware of the proper environmentally sound methods for growing plants. One's lack of knowledge can result in inappropriate use of planting materials, over watering and fertilizer/pesticides applications, factors all damaging to our unique and fragile ecosystems. To address these problems, Extension provides research-based, unbiased information to the public as well as, individual guidance and classes in proper plant selection, care and pest management. These classes are aimed to protect the environment, save residents money, and help create an esthetically pleasing landscape environment.
Master Gardener volunteers serve as an elite group of dedicated gardeners. They volunteer assist with telephone inquiries at the Extension Office, help establish community and school gardens and act as plant consultants at outreach events.
Throughout 2013, Master Gardener volunteer hours totaled 6,855+ valued at $129,217.00. These outreach efforts assisted 63,131 residents, led 764 plant tours and taught over 131 classes.
For more information on Florida Friendly Landscaping and the Master Gardener program please visit Miami-Dade's Extension website at: http://miami-dade.ifas.ufl.edu.
Miami-Dade's Cooperative Extension is a partnership of the Miami-Dade Department of Regulatory & Economic Resources and the University of Florida's Institute of Food and Agricultural Sciences (IFAS).