Miami-Dade Extension 4-H Science Ambassadors at USA Science and Engineering Festival, Washington D.C!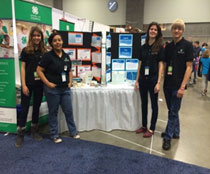 From left to right, Olivia Santos, Leandra Gonzalez, Sierra McLaughlin and John Coolidge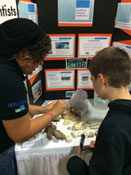 Leandra Gonzalez demonstrates the long-term effects of increased acidification on calcifying organisms.
Three Miami-Dade County/UF Extension 4-H teens, sponsored by a grant from Motorola, traveled to the USA Science and Engineering Festival in Washington, DC, April 25th-27th to raise awareness about an environmental issue they feel very passionately about.
Over 250,000 people attended the festival, the largest STEM education event in the United States. The 4-H Science Ambassadors' presentation proved extremely popular as they used fun, hands-on techniques to teach both children and adults about both the process, and the long-term effects of ocean acidification. 4-H teams from Broward, New York City, Illinois and Georgia also presented at the festival.
Leandra Gonzalez of Northwestern High, John Coolidge of Pacesetters Homeschool and Sierra McLaughlin of Doctors Charter School of Miami Shores were chosen for their commitment to the field of environmental science, according to Ruth Santos, the 4-H Agent who accompanied them to Washington DC. "Leandra, John and Sierra are passionate about both local and global environmental concerns," she says. "Presenting at such an important event was a great honor for us all, and I am proud of the commitment and professionalism with which my team represented Miami-Dade County."
When not presenting or attending workshops, the 4-H Ambassadors toured the historic city, visited museums and enjoyed the last of cherry blossom!
ABOUT 4-H (Ages 5-19) 4-H Motto: Head, Heart, Hands and Health
4-H is the nation's largest youth development organization that serves to encourage and empower our youth to reach their full potential, working and learning in partnership with adult mentors. Research shows that 4-H youth are healthier, more confident, more skilled and more engaged in their communities than other youth. Go to 4-H.org to learn more.