Lights, camera, action!
The film industry spent more than $29 million in Miami-Dade County in February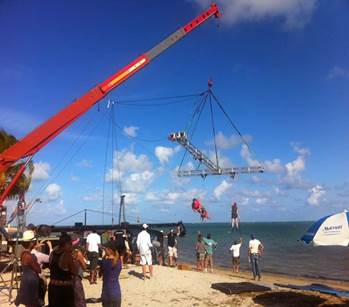 Visit Florida commercial filmed at Crandon Park Beach
(MIAMI, March 6, 2015) – February 2015 was a busy month for filming in Miami-Dade County. The Department of Regulatory and Economic Resources, Office of Film & Entertainment, issued 91 new film permits, and filming productions in the County in February spent $29,633,715. This is an increase of more than $24 million from February 2014. Overall in 2014, the Film Office processed more than 721 film permits. These film productions generated approximately $200 million of direct spend into Miami-Dade County's economy.
"The money spent by the film industry in Miami-Dade County helps to boost our local economy by creating jobs and generating tax revenues," said Miami-Dade County Mayor Carlos A. Gimenez. "As we continue to turn the corner as a County, my administration remains focused on keeping Miami-Dade among the most popular film locations in the country."
The new HBO television series "Ballers" filmed at the Stephen P. Clark Government Center last month. Soah Films filmed an ITT Tech commercial at the new Miami-Dade County Children's Courthouse, Brent Spector filmed a Renault commercial at the Miami-Dade County Courthouse, and several productions have been filming at PortMiami. Crandon Park Beach had more than 20 productions film there in February. Fourteen commercials and 15 television shows filmed in February including Telemundo's Dueños Del Paraiso and Tierra de Reyes, as well as the BBC show "Pop Slam."
The Rickenbacker Causeway, William Powell Turn Around, Hobie Beach and Rickenbacker Causeway Beaches were also popular in February, hosting eight productions.
In still photography, cars were the stars in February, with Lincoln, Porsche, Renault, Chrysler, Honda and Dodge all shooting in Miami-Dade County, the majority of them at PortMiami. Other still photography projects included Venus Swimwear, Elle UK, Glamour, French Vogue, Old Navy, Harper's Bazaar China, and Macy's Father's Day.
# # #
It is the policy of Miami-Dade County to comply with all of the requirements of the Americans with Disabilities Act. The facility is accessible. For sign language interpreters, assistive listening devices or materials in accessible format, please call at least five days in advance.