Hundreds of residents participate in Commissioner Jordan's Farmers Market
Miami-Dade County Commissioner Barbara J. Jordan welcomed over 300 residents to her District One Farmers' Market on Saturday, January 26, 2013 at the North Pointe YMCA. Residents were presented with a variety of fresh produce to sample and purchase from local growers and farmers.
"I am excited about the number of residents that attended the farmers' market and who chose to embrace a healthier lifestyle all while enjoying really good food," said Commissioner Jordan. "I feel it is important to provide our community with a sample of the locally grown produce that not only promotes a healthy life style but allows us to support our local economy, it's a win-win."
The farmers' market was the second one hosted by Commissioner Jordan at the North Pointe YMCA in conjunction with the Urban Oasis Project, YMCA and Miami Dade Parks Foundation. She plans on hosting future farmers' markets in various locations throughout District One.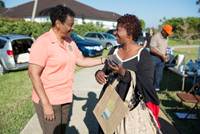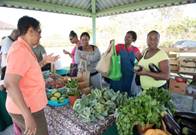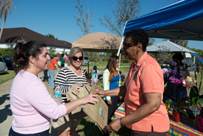 Commissioner Jordan greets residents at the farmers' market
To receive more information regarding upcoming District One Farmers' Markets, contact the office of Commissioner Jordan at (305) 474-3011.