Annual seniors Valentine's Day dance attracts more than 450
Looking to relive their glory days dancing to the Hully Gully, Jerk and the Twist, senior citizens in Miami-Dade County got the opportunity to strut their stuff during Commissioner Barbara Jordan's annual Seniors Valentine's Day Dance at the Landmark auditorium in Northwest Miami-Dade County. This year, more than 450 seniors dressed from head-to-toe in their red and white outfits.
"It seems as though the attendees come earlier and earlier for this event," said Commissioner Jordan. "Every chair was taken by 4:35 p.m. That speaks volumes about how popular this event has become and how we are meeting the needs of our senior population."
Dancing to the tunes from George Lane & the Miami House Rockers, seniors filled the floor moving to a party favorite – the Electric Slide.
The Valentine's Day Dance was sponsored in part by Arlines Seafood Restaurant, AARP, AVE, Calder Race Course and Casino, FPL, Hair Excape, Hebrew Homes Health Network, Okey Dokey Supermarket, Opa-locka/Hialeah Flea Market, The Tax Doctor, and World Waste Recycling.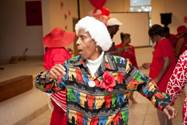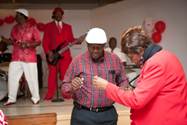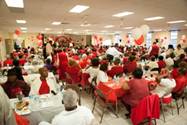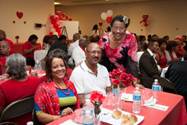 The elderly turned out en masse for Commissioner Barbara Jordan's annual Senior Valentine's Day Dance at Landmark in Northwest Miami-Dade County. The event was attended by more than 450 seniors. The seniors rocked to oldie goldies, enjoyed a great meal and won prizes from participating sponsors.