Swimming Scholarships to Help Curb Drowning Deaths in Miami-Dade
(Miami-Dade County, FL) -- With summer just around the corner, Miami-Dade County Commissioner Barbara Jordan wants to be proactive about teaching children how to swim. Concerned that children often swim in canals, lakes and other unattended bodies of water, Commissioner Jordan has donated funds for desperately needed swimming scholarships to the City of Miami Gardens and City of Opa-locka. She will also make a contribution to the North Pointe YMCA this week.
"Under the scorching sun, children often cool off by playing in pools without a lifeguard or venturing to the beach without an adult," said Commissioner Jordan. "I want our children to be prepared if they should go swimming leisurely or if they slip and fall into water accidentally."
Commissioner Jordan made the check presentations recently. The City of Miami Gardens received $5,000, the City of Opa-locka received $3,923, and the North Pointe YMCA will also receive $3,923.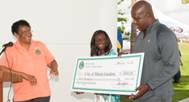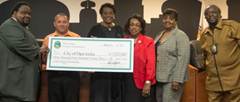 Left: Miami-Dade County Commissioner Barbara Jordan presents City of Miami Gardens Councilwoman Felicia Robinson and Councilman Erhabor Ighodaro, with a check for $5,000 for swimming scholarships for children. Right: Commissioner Jordan presents the City of Opa-locka Commission with a check for $3,923 to help address drowning deaths in Miami-Dade County. Pictured left to right: Vice Mayor Joseph Kelly, Commissioner Luis Santiago, Miami-Dade County Commissioner Barbara Jordan, Mayor Myra Taylor, Commissioner Dorothy Johnson, and Commissioner Timothy Holmes.