OneUnited Bank and Corporate Executives Make Investment in Local Youth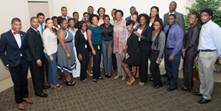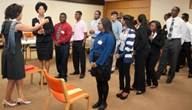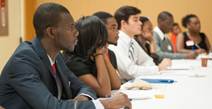 Left: Commissioner Barbara Jordan, middle, stands with interns from the 2013 class of the Summer Youth Internship Initiative (SYII). Middle: Teri Williams, president of OneUnited Bank, shares several teambuilding exercises with participants. Right: Students listen attentively as Commissioner Jordan welcomes them to the SYII program.
Miami Gardens, FL – Teri Williams, president and chief operating officer of OneUnited Bank, made a recent investment in several Miami Gardens youth that is guaranteed to net a positive return. In July, Williams made the decision to co-sponsor Miami-Dade County Commissioner Barbara Jordan's annual Summer Youth Internship Initiative (SYII). This program allows high school and collegiate students to gain real-world experience in the workplace during an eight to 10-week period.
"This internship program is productive because of strategic partnerships that we have formed with businesses in Miami-Dade County," said Commissioner Jordan. "It is an effective tool used to identify assertive students who are eager to learn about business etiquette, workforce operations and skills that will enhance their careers."
Maurice McDaniel, a 17-year old student at Miami Norland Senior High School, is one of 28 students who participated in the SYII program. He noted that the professional advice from corporate executives during the orientation session helped him make sound decisions during his internship at the Greater Miami Convention and Visitors Bureau.
"I learned about the travel industry and how many job opportunities were available in the South Florida area," said McDaniel, who mainly worked with the Black Hospitality Initiative. "I applied the advice given from one of the program mentors and that made all the difference in the world."
According to McDaniel, he was instructed to remain professional at all times, learn as much as he could, and be respectful and mature, because that will take him a long way.
Those words of wisdom were instilled in McDaniel by Jerrell Moore, Vice President and Chief Diversity Officer for Burger King Worldwide. Moore was one of many corporate executives who lectured the students before beginning their internships.
"Since being founded in Miami almost 60 years ago, the Burger King brand has maintained a strong commitment to its community—with a primary focus on education," said Moore. "This commitment is grounded in four key areas: mentoring, access to college, scholarships, and financial literacy. Working with Commissioner Jordan's annual Summer Youth Internship Initiative is a wonderful opportunity to help prepare South Florida talent for real-world work experiences."
Laila Muhammad-El, an Accounting major at Florida Memorial University, got a chance to apply her bookkeeping skills during her internship at El Dorado Furniture. While working in the event planning department, Muhammad-El created a program that allowed the planning department staff to track their expenses.
"Laila was wonderful to work with," said Maria Alejandra, Muhammad-El's immediate supervisor at El Dorado Furniture. "She took on every responsibility given to her. She was such an impressive student, we asked her to stay on a little longer."
Overwhelmingly, students in SYII's class of 2013 appreciated their learning experience. For some who weren't sure they declared the right major, the internship was a deciding factor.
"I really enjoyed the workflow," said Robyn Graves, a Business Administration major at Florida A&M University, who interned at American Airlines. "In a two-week span, I was able to work on the National Bar Association's convention in Miami Beach, and the Disney Planes movie premiere in which American Airlines was featured.
"Working here confirmed that I made the right career choice."
Molding and shaping careers was the message from Dr. Rosalie Ellis Payne who is the Senior Director, Global Contact Center; Shared Resources Services for Carnival Cruise Lines. With a focus on human resources, Dr. Ellis Payne encouraged the interns to learn the corporate culture of their employer.
"I told them to be aware of their actions, their behavior and how to succeed," said Ellis Payne. "I explained the importance of being dependable, ethical, credible, consistent, honest, and responsible. They now know that they have to understand the vision of the organization and how they fit into that vision."
"The quality of the participants in the Summer Youth Internship Initiative Program is amazing," said Williams of OneUnited Bank. "We are honored to be a part of this program and have agreed to sponsor SYII again next year."
The Summer Youth Internship Initiative is sponsored in part by American Airlines, Annette Willis Insurance Agency, Antioch Missionary Baptist Church, D&N Sports Inc., Dade County Federal Credit Union, EAC Consulting, El Dorado Furniture, Experience Aviation, Fontainebleau Aviation, GJB Projects, Greater Miami Convention and Visitors Bureau, Jesus People Ministries International, Miami Dade Expressway Authority, North Dade Community Development FCU, Office of Commissioner Barbara Jordan, Orange Bowl Committee, Orion Jet Center, Sun Life Stadium/Miami Dolphins, and Warren Henry Automobiles.