Commissioner Jordan and Ted Lucas spread holiday cheer
Thanksgiving baskets delivered to needy families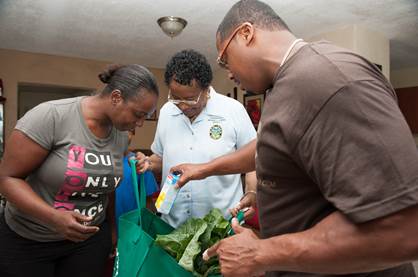 Photo: Audria Green of Miami Gardens takes a peek into the basket full of Thanksgiving items donated by the Ted Lucas Foundation, Commissioner Barbara Jordan and several sponsors.
Miami Gardens, FL - Smiles, laughter and sincere messages of gratitude greeted Commissioner Barbara J. Jordan and record mogul Ted Lucas as they delivered Thanksgiving baskets to several needy families in North Miami-Dade County. The dynamic duo teamed up once again to deliver food baskets with all the trimmings for the Thanksgiving holiday. Before going door-to-door to drop off baskets, alumni from the Miami Dolphins joined Commissioner Jordan and Lucas by handing out turkeys to the elderly, handicapped, and social organizations that service the community.
"We must remain mindful that the economy still dictates who is able to provide for their families and who cannot," said Commissioner Jordan. "I started getting inquiries about turkey donations months ago. That was a clear indication that our annual goodwill mission is still viable for this community."
More than 750 turkeys were provided to residents throughout the day. Those turkeys were accompanied by fresh vegetables, canned goods and beverages. This year's turkey basket distribution was made possible by the Ted Lucas Foundation, Farm Share, Landmark Aviation, Miami Dolphins, Suffolk Construction, and World Waste Recycling.