Scores of residents turn out for Jazz and Blues Concert hosted by Commissioner Jordan and Mayor Gilbert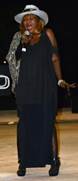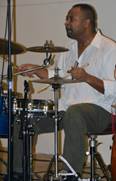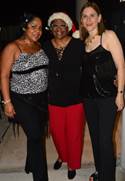 Pictured left: The legendary Alice Day struts across the stage wowing thte crowd with her electric voice. Middle: Alice Day's drummer commands a round of applause as he is given a minute to shine. Right: Commissioner Jordan poses with the lead singers of The Dave Nuby Band, one of South Florida's top Blues ensembles.
Miami Gardens, FL – Spectators snapped their fingers, tapped their feet and sang songs from yester-year during the Music in the Park Jazz and Blues concert recently hosted by Miami-Dade Commissioner Barbara J. Jordan and City of Miami Gardens Mayor Oliver Gilbert. Approximately two hundred people grooved to the sounds of The Dave Nuby Band and the legendary Alice Day at the Betty T. Ferguson Amphitheater in Miami Gardens.
"This was the largest turnout to-date," said Commissioner Jordan, who has coordinated six Music in the Park events. "Whenever you give the community quality programming, they will be there to support it."
The Music in the Park event is Commissioner Jordan's effort to bring cultural activities to the residents of District 1. The event was sponsored in part by LiUNA, Bounce TV, Calder Casino and Race Course, COMCAST, MAT Concessionaires, Miami Dolphins, Miami Marlins, H&R Block, the City of Miami Gardens, and the Miami-Dade Parks Foundation.