Commissioner Jordan transforms into Ms. Claus
Delivers holiday cheer to Head Start centers in Miami Gardens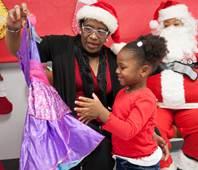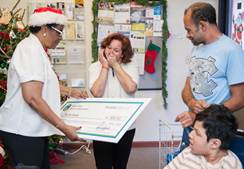 Left: Commissioner Jordan presented dolls and costumes to children at the Ophelia Brown Head Start Center.
Right: The Rio family is shocked when Commissioner Jordan resents them with a $500 gift certificate.
Commissioner Jordan transforms into Ms. Claus
Delivers holiday cheer to Head Start centers in Miami Gardens
Miami, FL – Sporting a Santa cap and signature red colors, Miami-Dade Commissioner Barbara J. Jordan recently dressed as Ms. Claus to distribute toys to children at two Miami Gardens Head Start centers. More than 140 children at the Ophelia Brown and North County Head Start centers walked away with dolls, remote control cars, games, action figures, or costumes.

"Of all the work that I do on behalf of my constituents throughout the year, delivering these toys is the most rewarding," said Commissioner Jordan. "Their smiles and expressions of happiness mean the world to me."

This year's wide eyes and bright smiles were made possible in part by Walmart, FPL and Horsepower Electric.

"I rely on the companies in this community to give back to the residents through programs such as this," said Commissioner Jordan. "I've found that the businesses in District 1 are responsible corporate citizens and support my endeavors that benefit the community."

In addition to the toy drive, Commissioner Jordan's giving spirit assisted four families living in Miami Gardens. The Balbontin, Bellamy, Lawson, and Rio families received food baskets, a bike, tickets to Santa's Enchanted Forest, and a gift card for $500. The families noted that they will use the funds to purchase additional food and household goods.