Hundreds of residents came to groove at the Music in the Park concert sponsored by Commissioner Jordan
Miami Gardens, FL – More than 300 residents turned out last Friday, May 9, 2014 for the Music in the Park series sponsored by Commissioner Jordan and Miami Gardens Councilman David Williams. Spectators sang songs from Jazz songstress Brenda Alford and Blues great Joey Gilmore at the Betty T. Ferguson Amphitheater in Miami Gardens.
"The crowds have grown steadily since our first Music in the Park series," said Commissioner Jordan. "I enjoy providing our residents with quality programming by bringing the sounds of Jazz and Blues to our community."
"The Music in the Park series is an ongoing event that allows families the opportunity to enjoy music and spend quality time together," said Councilman David Williams. "It gives me a great deal of pleasure to have been a part of this event. Commissioner Jordan continues to provide family-oriented events to our residents, and I would like to thank her for her continued support."
Sponsors for Music in the Park include Comcast, Bounce TV, Mercedes Benz of Miami, LiUNA, Miami-Dade Parks Foundation, Miami-Dade County Department of Cultural Affairs, City of Miami Gardens, Sunshine Jazz Organization, and the Office of Commissioner Barbara Jordan.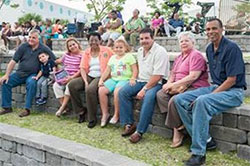 Commissioner Barbara J. Jordan, Miami Gardens Councilman David Williams and residents enjoy an evening of Jazz at the annual Music in the Park series.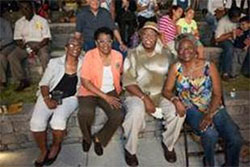 Photos by Armando Rodriguez/Miami-Dade County Photographer