Foster, Adoptive & Kinship parents honored by Commissioner Jordan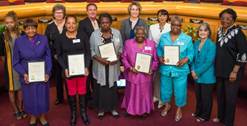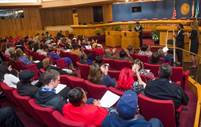 Left: Commissioner Barbara Jordan honors grandparents who are adoptive and foster caregivers to their grandchildren. Middle: More than 100 people attend the Foster, Adoptive & Kinship Parent Commemorative Ceremony organized by Commissioner Barbara Jordan. Right: Commissioner Barbara Jordan congratulates Trudy Petkovich and her adopted daughter Deborah, who have been a family since Deborah was 3 years old.
(MIAMI, FL) – Nearly 100 people were honored by Commissioner Barbara Jordan and the Miami-Dade County Foster & Adoptive Parent Association in the Miami-Dade County Commission Chamber on Jan. 29 for opening their hearts and homes to foster and adoptive children. The Foster, Adoptive & Kinship Parent Commemorative Ceremony, which paid homage to men and women for their selflessness and dedication, was designed to honor foster, adoptive and kinship parents who have been working to protect those children who are in the state's system.
"It's important to honor our caregivers," Commissioner Jordan said. "We need them to know that they are valuable citizens and their dedication to Miami-Dade's youth has not gone unnoticed."
Trudy Petkovich was among those who were honored at the ceremony. One of the girls Petkovich adopted is Deborah Petkovich, who is now 19 years old and has been with Petkovich's family since she was 15 days old. Deborah was legally adopted when she was 3 years old.
"We've had more than 300 foster kids over an 18-year period," Petkovich said. "It started from a project at our church. We fell in love with three of our girls and we adopted them. We're now advocates."