Former Commissioner Ferguson honored by Commissioner Jordan during Black History Month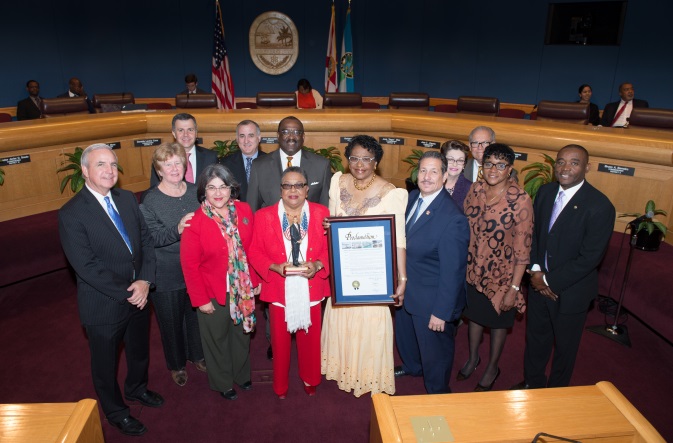 Mayor Carlos Gimenez and members of the Board of County Commissioners join Commissioner Jordan in honoring former Commissioner Betty T. Ferguson during Black History Month.
(MIAMI, FL) – After serving 11 years on the Miami-Dade County Board of County Commissioners, the Honorable Betty T. Ferguson walked into the Commission Chamber to accept an award from the Board for her untiring and selfless dedication to make life better for the residents in Miami-Dade County. On Wednesday, February 18, 2015 Commissioner Barbara Jordan sponsored a proclamation to honor Commissioner Ferguson during Black History Month.
"This is a fitting time to acknowledge the bridges that Commissioner Ferguson built and the obstacles that she had to overcome on behalf of her constituents in District 1," said Commissioner Jordan. "This is a proud moment for me because I get to pay tribute to a mentor and a friend."
Commissioner Ferguson blazed many trails including holding the first elected seat for the District 1 Commission seat. She helped create the Carol City Police Station, Bunche Park Fire Station and Honey Hill Fire Station. She also helped secure more than $12 million for the creation of a community center now named in her honor. Residents in the City of Miami Gardens saw improved drainage and sidewalks after she secured more than $20 million for those infrastructure improvements.
"Commissioner Ferguson epitomizes the meaning of leadership," said Commissioner Jordan. "She has led with dignity and dedication. However, her most effective accomplishment has been as the lead plaintiff in the lawsuit that created district elections."