Rescuers, champions and innovators lauded by Commissioner Jordan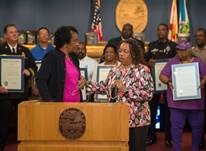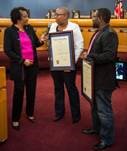 Left: Commissioner Barbara J. Jordan is joined by City of Opa-locka Mayor Myra Taylor to recognize emergency workers, social service agencies and others who rescued residents from a devasting fire in the City of Opa-locka on March 20, 2015. Middle: Commissioner Barbara J. Jordan is in awe of the height of Dewan Huell, a player on the Miami Norland High School's Boys 6A baskeball team. She congratulated the team for winning the state championship for four consecutive years. They are the only boys basketball team in Miami-Dade County to claim that honor. Right: Felicia Hatcher and Derick Pearson receive awards from Commissioner Barbara J. Jordan for conceptualizing and implementing the first annual Black Tech Weeik event in Miami-Dade County.
(MIAMI, FL) – Frontline workers who rescued residents from a burning building, a basketball team that won four consecutive state championships and the husband/wife duo that conceptualized Black Tech Week all received honors from Miami-Dade County Commissioner Barbara J. Jordan for their accomplishments.
On Tuesday, April 21, Commissioner Jordan invited what she has dubbed as the "Opa-locka Fire Dream Team," to receive commendations for their roles during a horrific fire. On March 20, the lives of 20 families changed drastically. A fire that started on the third floor of an Opa-locka apartment building spread to the attic and caused a portion of the roof to collapse.

"March 20 could have been a devastating day in Miami-Dade County had it not been for the men and women who leaped into action," said Commissioner Jordan. "While the apartment building suffered major damage, these rescuers saved what was truly important – human lives."
To show her appreciation, Commissioner Jordan, joined by City of Opa-locka Mayor Myra Taylor, honored representatives from the Miami-Dade Police Department, City of Opa-locka Police Department, Miami-Dade Fire Rescue, Miami-Dade Transit, FPL, Red Cross, and Volunteers.
Athletes from Miami Norland Senior High School were also summoned to the Commission Chamber to acknowledge a major feat for their Boys 6A basketball team. Earlier this year, players on the squad celebrated winning four consecutive state championships, an accomplishment that no other Miami-Dade County boys basketball team can claim.
Commissioner Jordan's final awards were given to Derick Pearson and Felicia Hatcher, the husband/wife team that conceptualized and implemented Black Tech Week, a national conference based in Miami that attracted innovators-of-color who discussed funding and survival in an ever-changing business. At a time when Miami-Dade County is positioning itself as a Tech-Hub, Commissioner Jordan noted, "It was great to see African Americans joining in the fold."