Maryel Epps, Joey Gilmore excite and entertain crowd at Music in the Park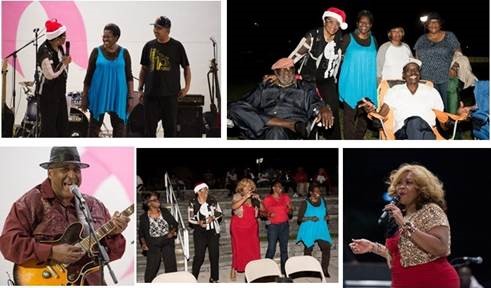 Top row, from left: Commissioner Barbara Jordan, Councilwoman Lillie Q. Odom, and Keith Valles, from the Sunshine Jazz Organization, make introductory remarks at Music in the Park; Commissioner Jordan and Councilwoman Odom greet audience members. Bottom row, from left: "Bluesman" Joey Gilmore energizes the crow; Commissioner Jordan, Councilwoman Odom, and audience members dance to the jazzy tunes of Maryel Epps; Epps sings to the audience.
(Photos by Ryan Holloway / Miami-Dade County)
(MIAMI GARDENS, FL) – A mix of gospel, jazz and downhome blues had music lovers dancing in the aisles on December 11 at the Betty T. Ferguson Recreational Complex in Miami Gardens. Residents clapped their hands, tapped their feet, and sang along as Maryel Epps and Joey Gilmore gave an electrifying and soulful performance during the free semiannual concert sponsored by Miami-Dade County Commissioner Barbara J. Jordan, the Sunshine Jazz Organization, City of Miami Gardens Councilwoman Lillie Q. Odom, and the Miami-Dade Parks Foundation.
"It was a great show. Jazz and blues is my kind of music," said Commissioner Jordan, who danced in the crowd with residents of all ages. "My goal is to bring residents events that are fun and entertaining for the whole family."
The next Music in the Park event is scheduled for May 6, 2016 from 6:30 to 9 p.m. at the Betty T. Ferguson Recreational Complex, 3000 NW 199th Street in Miami Gardens.