Commissioner Jordan makes holidays bright for local families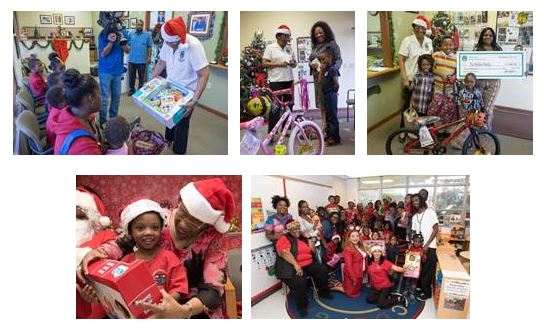 Top row, from left: The Barry family looks on as Commissioner Jordan presents Christmas gifts to the family of seven children; the Jones-Pearson family marvels at their new bicycle; the Mulkey family holds their $500 check. Bottom row, from left: A child from Ophelia Brown Headstart receives her gift; the center's staff, parents, and children proudly display their gifts.
MIAMI GARDENS – Miami-Dade County Commissioner Barbara J. Jordan made Christmas wishes come true for about 140 children at the Ophelia Brown and North County Headstart centers, located in Miami Gardens. Children walked away with dolls, remote control cars, games, action figures, costumes, and more.

"My career started in Headstart and it will always be a part of my heart," Commissioner Jordan told Headstart parents who attended the toy giveaway Thursday. Children ranging in age from 3 to 5 years old smiled as they sat on Santa's lap and received a free toy from Commissioner Jordan, who also donned a Santa's hat.
Jenny Sanchez, director of both of the Headstart centers that received the donations, expressed her gratitude. "Every year the commissioner makes donations and the parents get so excited. They love the event. They always ask, 'When is the giveaway?'"

In addition to the toy drive, Commissioner Jordan's giving spirit assisted four less fortunate families from her district. The Jones-Pearson, Mulkey, Woods, and Barry families received food baskets, a bike, tickets to Santa's Enchanted Forest, and a gift card for $500. The families noted that they will use the funds to purchase additional food, toys and household goods.
"So many struggling families don't get to experience the joy of the holiday," Commissioner Jordan said. "Any day we can put a smile on people's faces, we do."
Commissioner Jordan's toy drive was sponsored by Walmart, Corcel Corp., The Falic Family Foundation, Florida Power & Light, and the International Brotherhood of Electrical Workers.