Commissioner Jordan honors foster, adoptive, and kinship parents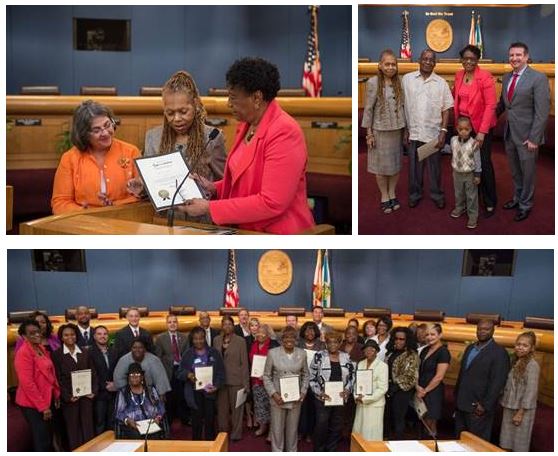 Clockwise from top left: Commissioner Barbara Jordan and Commissioner Daniella Levine Cava present a certificate of appreciation to Miami-Dade County Foster & Adoptive Parent Association President Shamele Jenkins; Shamele Jenkins, Ivor Pogson, his adoptive son, Commissioner Jordan, and Our Kids of Miami-Dade Inc. CEO Charles Scherer; Foster, adoptive, and kinship parent honorees and leaders from various children's organizations in the Commission Chamber.
(Photos by Ryan Holloway / Miami-Dade County)
MIAMI – Nearly 100 people were honored by Commissioner Barbara Jordan and the Miami-Dade County Foster & Adoptive Parent Association in the Miami-Dade County Commission Chamber on January 28 for opening their hearts and homes to foster and adoptive children. The Foster, Adoptive & Kinship Parent Commemorative Ceremony paid homage to men and women who care for and protect those children who are in the state's system.
"My mother opened her home to foster care children," Commissioner Jordan said. "It makes a difference when you give a child love. They won't forget. They can't thank you enough."
Shamele Jenkins, President of the Miami-Dade County Foster & Adoptive Parent Association, praised the honorees and their families who were in attendance.
"You serve out of the kindness of your heart," she told the audience. Jenkins implored the general public to assist foster and adoptive parents. "Give to the children and the people who are helping our children."
Commissioner Jordan presented Jenkins with a certificate of appreciation while praising her for her "hard work and sacrifice."
Zackary Gibson, Chief Child Advocate and Director of the Office of Adoption and Child Protection Executive Office of the Governor, acknowledged the dedication and selflessness of the honorees. Gibson also commended Jenkins for her tireless efforts: "You are a true advocate; we thank you."
This year's ceremony targeted individuals who have served as foster, adoptive, and kinship parents for five years or more. Next year, Commissioner Jordan plans to expand the criteria to recognize children who have aged out of foster care as well.