Commissioner Jordan hosts 3rd Annual Black Heritage Festival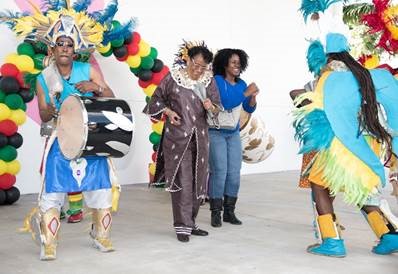 Commissioner Barbara Jordan accompanies the Junkanoo band on stage at her third annual Black Heritage Festival.
(Photos by Armando Rodriguez / Miami-Dade County)
MIAMI GARDENS – Miami-Dade County Commissioner Barbara Jordan kicked off her third annual Black Heritage Festival by dancing to the rhythmic drums of a Caribbean-style Junkanoo band.
The festival was hosted by Commissioner Jordan and City of Miami Gardens Vice Mayor Felicia Robinson on Saturday, Feb. 13 at the Betty T. Ferguson Recreational Complex Amphitheater. Jordan said her festival, which is celebrated each year during Black History Month, honors the rich and diverse heritage of Black people.
"This type of event instills pride among our people, and it's important to celebrate our contributions and achievements," Commissioner Jordan said. "We also love hosting events that offer good, wholesome fun for the whole family."
The festival showcased the wide-ranging talents of local residents. A few of the acts that graced the stage included gospel singer Gia Wyre, Simone's Just Dance Performing Arts Studio, Jesus People Ministries, spoken-word artist Rebecca "Butterfly" Vaughns. African fashions were also highlighted during the African Diaspora Fashion Show.
The festival also serves as an opportunity to give local entrepreneurs more exposure. Business owners promoted an array of cultural wares along with several food trucks and other food vendors.
Children enjoyed rock-wall climbing, face-painting, and bounce houses. There were mobile units on hand from CareerSource South Florida, the AIDS Healthcare Foundation, and Kinad African American Mobile Museum.
The 2016 Black Heritage Festival was sponsored by EBS Engineering, Inc., EAC Consulting, Inc., Orion Jet Center, D. Stephenson Construction, Inc., Marlins Foundation, Carrie Concessions, IBEW 349, Greater Miami Convention & Visitors Bureau, Slip-N-Slide Records, the Brandon Harris Building For A Better Tomorrow Foundation, Landmark Companies, and TaxDrz.com.

At left, a vendor shows Commissioner Jordan her jewelry for sale at the festival. At right, Commissioner Jordan and Miami Gardens Vice Mayor Felicia Robinson, in orange skirt, greet attendees at the third annual Black Heritage Festival.