Commissioner Jordan renames street in honor of first black female police officer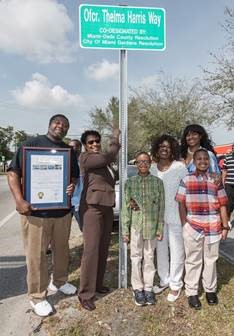 Commissioner Barbara J. Jordan joins Thelma Harris' family at the street renaming ceremony.
(Photos by Armando Rodriguez / Miami-Dade County)


MIAMI GARDENS – The Miami-Dade County Commission and the Miami Gardens City Council have co-designated Northwest 175th Street between 27th and 37th avenues as "Officer Thelma Harris Way" in honor of Officer Thelma Harris, the first black female police officer in Florida, who served 20 years with the Miami-Dade Police Department. Commissioner Barbara J. Jordan joined City of Miami Gardens council members and other public officials at the street renaming ceremony on March 3 as they paid tribute to the pioneer in law enforcement.

"Officer Thelma Harris deserves to be saluted for being a trailblazer. As the first black female police officer in the state of Florida, during the civil rights era, I'm sure she endured many challenges," Commissioner Jordan said. "We are thankful that she has opened doors for so many black female police officers."

Commissioner Jordan presented Officer Harris' daughter, Brenda Freeman, with a proclamation that lauded her mother's historic achievement. Officer Harris, known as the "Lady Behind the Badge," was also acknowledged for her work with children in the community and as a school resource officer.

"She was just an honest little strong lady that went about doing what was right and what was good," said retired Miami-Dade Police Officer Yolanda Rayborn.
Officer Harris began her service with MDPD in June of 1962 and she worked for the Department for 20 years before retiring in 1982. Harris was also a charter member of Mt. Hermon AME Church, where she served as vice president of the United Women's ministry. She died last summer at 88 years old.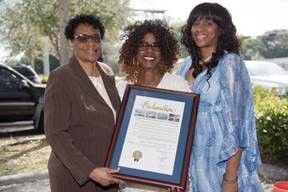 Commissioner Jordan presents a proclamation to Officer Thelma Harris' daughter Brenda Freeman and granddaughter Sheri Rousley.