Commissioner Jordan hosts Movie Night at North Glade Park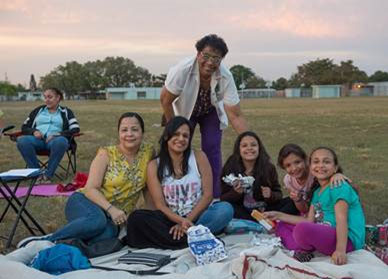 Miami-Dade County Commissioner Barbara J. Jordan greets a family at her recent Movie Night event. (Photos by Ryan Holloway / Miami-Dade County)
MIAMI – Families in North Miami-Dade County recently brought lawn chairs and blankets to North Glade Park to see Pixar's 3D computer-animated comedy-drama adventure "Inside Out." Thanks to Miami-Dade County Commissioner Barbara J. Jordan, dozens of children and their parents snacked on hot dogs, popcorn and sodas during the flick that lasted one hour and 42 minutes. Some parents worked double duty Friday night as kids watched portions of the movie, then dashed to the playground area.
"I love meeting and interacting with families who turn out for my events," Commissioner Jordan said. "The purpose of my events is to provide fun, family-friendly activities for residents."
The District 1 Movie Night was sponsored by the Miami-Dade Parks Foundation and the Office of Commissioner Jordan.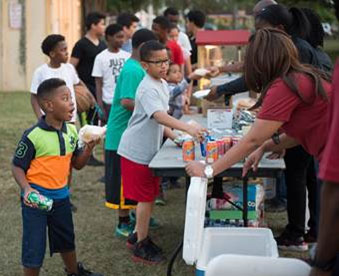 Children stand in line for free refreshments at Commissioner Jordan's Movie Night.