Students explore medical field, engineering, and more through Commissioner Jordan's internship program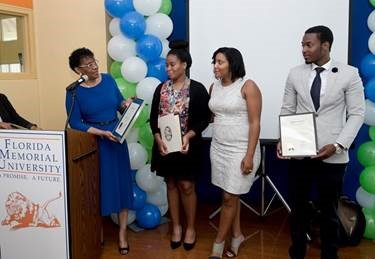 Miami-Dade County Commissioner Barbara Jordan honors participants of her Summer Youth Intership Program Initiative at the program's closing ceremonies at Florida Memorial University. From right, intern Alexander Clerville, Miami Dolphins Community Affairs Director Leslie Nixon, and intern Nicole Turner.
(Photos by Ryan Holloway / Miami-Dade County)
MIAMI-DADE, FL – Cle-Andra Rolle, a senior at Florida Memorial University majoring in biology, says her dream of becoming a doctor is a reality because of Commissioner Barbara Jordan's Summer Youth Internship Initiative (SYII). Rolle worked as an intern this summer at Jackson Memorial Hospital, assisting medical staff.
"I saw someone being resuscitated…doctors brought them back to life," Rolle said. "That experience solidified it for me. I'm getting a head start on my career."
For eight to 10 weeks, 30 students were paid to work in County government and the private sector as part of the SYII program. Students underwent an extensive interview process and were required to attend a daylong orientation session with a motivational speaker, life coach and several entrepreneurs. Students from the following colleges participated in the program: Florida Memorial University (FMU), St. Thomas University, Florida International University, Florida Atlantic University, University of Florida, Florida A&M University, Florida State University, and Spelman College.
Tessa Boudreaux, Executive Director of the YMCA of South Florida, said Shellian Wheeler, a junior studying criminal justice at FMU, was a welcome addition to her team. Wheeler worked as a camp counselor at North Pointe YMCA Family Center, handling 80 children ranging from age 5-12.
"The children really respect and love her," Boudreaux said. "They will miss her dearly."
Wheeler said her internship left a lasting impression. "I learned to take advantage of every opportunity, that I am a role model, and to whom much is given, much is required," she said.
Jamique Campbell, a junior majoring in political science at FMU, says his internship at 300 Engineering allowed him to network and forge new relationships. "I met a lot of extraordinary people," Campbell said.
"The Summer Youth Internship Initiative was designed to give students real work experience, and our interns have made me very proud in how they have excelled in and outside of the workplace," said Commissioner Jordan.
Naomi Delva, a senior at Spelman College majoring in political science, attended County Commission meetings during her internship at Commissioner Jordan's offices. She said it was a "life-changing experience."
"I was able to shadow the commissioner. I admire her because she is honest, has strong morals, and is a very consistent person. People really respect her," Delva said.
Suheid Mangual, Executive Assistant to the CEO of the Orange Bowl Committee, said this is the sixth year that the Orange Bowl has been a business partner in the SYII program.
"We're honored to be a part of this prestigious program and we look forward to next year," Mangual said.
Malik Abel, a junior at the University of Florida majoring in finance, worked at EAC Consulting, in several departments including accounting, IT, and human resources.
"When a former SYII intern who got a permanent position in EAC's IT department spoke to the interns at the closing ceremony, it was inspiring," Abel said.
Shonte Deveaux, a junior majoring in information technology at FMU, learned how to update and troubleshoot computers this summer also at EAC Consulting. She said she was grateful for the opportunities provided by the program.
"Thank you, Commissioner Jordan, for a productive summer," Deveaux said at the SYII closing ceremony. "Thank you for believing in us."
Business partners for the 2016 Summer Youth Internship Initiative were 300 Engineering Group, P.A., Adrienne Arsht Center, Atlantic Pacific Communities, Calder Casino, EAC Consulting, Inc., El Dorado Furniture, Fontainebleau Aviation, Greater Miami Convention & Visitors Bureau (GMCVB), Jackson Health System, Jesus People Ministries Church International, MCO Construction and Services, Inc., Miami-Dade Expressway Authority (MDX), Miami Dolphins, North Pointe YMCA Family Center, Office of Commissioner Barbara J. Jordan, Orange Bowl Committee, Orion Jet Center, and Warren Henry Auto Group.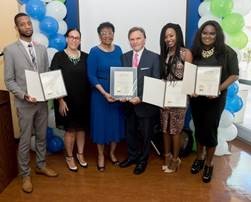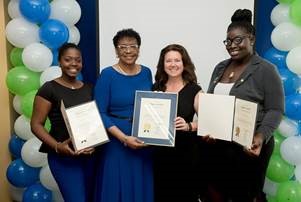 At left, from left to right: intern Rashad Russell, El Dorado Furniture Executive Human Resources Maydoll Lazo, Commissioner Jordan, El Dorado Vice-President Henry Heredero, and interns Jennifer Cazy and Meredith Marseille. At right, from left to right: intern Sylvie Francois, Commissioner Jordan, YMCA of South Florida North Pointe Family Center Executive Director Tessa Boudreaux, and intern Shellian Wheeler.