Commissioner Jordan hosts Small Business Lending Workshop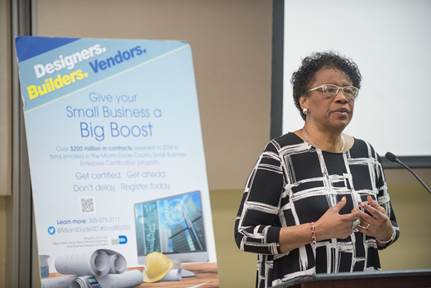 Commissioner Jordan addresses attendees at her Small Business Lending Workshop.
(Photos by Armando Rodriguez / Miami-Dade County)
MIAMI-DADE – More than 60 people attended Miami-Dade County Commissioner Barbara Jordan's Small Business Lending Workshop, which was co-sponsored by the Small Business Development Division, on November 3. The event, held at Florida Memorial University, was developed to attract local small business owners who learned about participating in county contracts, becoming county registered vendors, and more.
"It's vital to help small businesses, especially the ones getting back on their feet after the economic downturn years ago," Commissioner Jordan said. "This workshop will give businesses the tools to grow and become more successful."
Presenters discussed the importance of personal and business credit scores, how to secure bank loans, micro-lending, the certification process, and a host of other topics. They also answered questions from small business owners in the audience.
Brittney Easterling, 29, who has owned her landscaping business in Miami-Dade County for a year, said she will apply the information she learned to her business.
"The information that was presented was easy to understand and valuable." Easterling said. "I would continue to come to these workshops no matter how much I learn."
Representatives from the following organizations participated in the workshop: Miami-Dade County Human Resources, Jackson Health, SBDC, Florida Community Bank, City National Bank, BankUnited, Popular Community Bank, Our Micro Lending, Trust Funding Solutions, Miami-Dade Chamber of Commerce, Atlantic Insurance Brokerage, FSB Agency Inc., and Credit 360. F
or more information go to the Small Business Development (SBD) website at www.miamidade.gov/smallbusiness/.