Commissioner Jordan gives away 750 turkeys to needy residents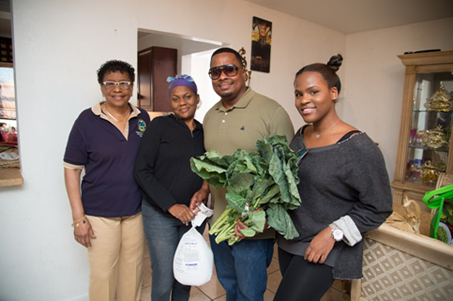 Ted Lucas and Slip-n-Slide recording artist Teenear, right, joined Commissioner Jordanin delivering a Thanksgiving basket to the home of Wilda Decade, holding turkey.
(Photo by Armando Rodriguez / Miami-Dade County)
MIAMI GARDENS, FL – Miami-Dade County Commissioner Barbara J. Jordan hosted her 12th annual turkey giveaway at Landmark in Northwest Miami-Dade County on November 21. Commissioner Jordan, sponsors, and volunteers handed out about 750 turkeys to those in need, including churches, schools, and social organizations that serve the community.
"This turkey giveaway has become my Thanksgiving tradition as I've been hosting it since I was first elected to office 12 years ago," Commissioner Jordan said. "Every year, I reach out to the organizations that work with the needy and they help us identify the residents who are the most deserving."
Later that morning, Jordan and record mogul Ted Lucas teamed up to deliver Thanksgiving baskets with all the trimmings to several impoverished families in North Miami-Dade County.
The donated turkeys were accompanied by fresh produce provided by Farmshare. Sponsors of the turkey distribution and door-to-door basket donations are Signature Flight Support, Odebrecht, World Waste Recycling, Miami Dolphins, Orion Jet Center, and Ted Lucas Foundation.