Music in the Park Concert draws hundreds of attendees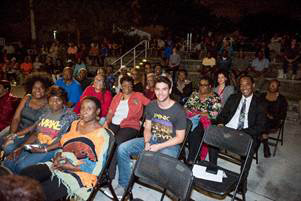 Commissioner Jordan and Miami Gardens Councilman Rodney Harris (Back row, blue shirt) greet the crowd at the Music in the Park concert.
MIAMI GARDENS, FL – More than 300 residents turned out to groove to the jazzy tunes of "The Sweetheart of Song" Rochelle Lightfoot and hand-drummer Bobby Thomas Jr. at Music in the Park on December 2 at the Betty T. Ferguson Recreational Complex. The free semi-annual concert is sponsored by the Miami-Dade Parks Foundation, City of Miami Gardens Councilman Rodney Harris, Miami-Dade County Cultural Affairs Department, Sunshine Jazz Organization, and the Office of Commissioner Barbara J. Jordan.
"This concert was great because we not only had great performers but we also paid tribute to someone who is legendary in the jazz community," Commissioner Jordan said. "We are all very fortunate to have a jazz icon such as Melton Mustafa Sr. reside in District 1."
Two-time Grammy-award nominee Bobby Thomas Jr. captivated the crowd with his hand-percussion performance. The crowd also danced to the soulful sounds of singer Rochelle Lightfoot, who was accompanied by a 9-piece band including saxophonist Melton Mustafa Jr.
Mustafa Jr. joined his family on stage later in the show when Commissioner Jordan honored his father, Melton Mustafa Sr., by presenting a proclamation to the world-renown jazz musician and Director of Jazz Studies at Florida Memorial University.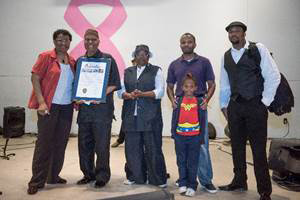 Commissioner Jordan presents a proclamation to legendary jazz musician and Miami Gardens resident Melton Mustafa Sr.
Mustafa Sr., who is a Miami Gardens resident, said one of the highlights of his career has been teaching and mentoring young people.
"My platform is to spread the love of music," he said. "I pray that I'm able to use my craft to do more for young people in this community."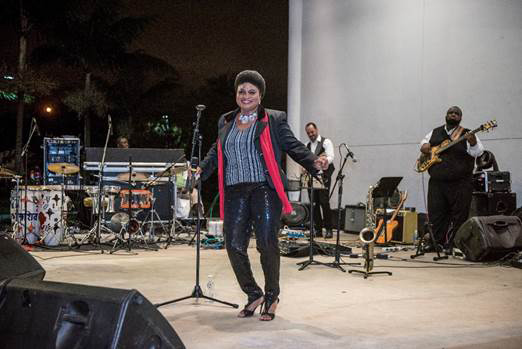 "The Sweetheart of Song" Rochelle Lightfoot performs at Music in the Park.
(Photos by Armando Rodriguez / Miami-Dade County)