Seniors get their groove on at Commissioner Jordan's annual Valentine's Day Dance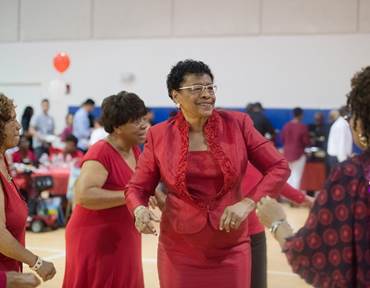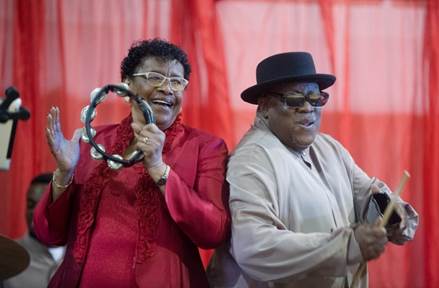 At left, Miami-Dade County Commissioner Barbara Jordan joins attendees on the dance floor during her annual Valentine's Day Dance for seniors. At right, she rocks it out with R&B group Pocket Change.
(Photos by Ryan Holloway / Miami-Dade County)
MIAMI GARDENS – About 430 residents turned out on February 13 for Miami-Dade County Commissioner Barbara Jordan's annual Valentine's Day Dance for Seniors at the gymnasium at the Betty T. Ferguson Recreational Complex in Miami Gardens.
Local seniors came dressed to the nines. Men sported dapper suits that harkened back to their heyday. Ladies sported festive red and white ensembles. Some carried canes or walkers, but that didn't keep them from cutting a rug on the dance floor.
"Every year, we do this dance for seniors and they have an amazing time," Commissioner Jordan said. "It gives them an opportunity to kick back and have some fun."
The seniors danced the night away to old-school tunes performed by the local group Pocket Change. The Cupid Shuffle, Electric Slide and Wobble were fan favorites. Along with the dancing, attendees dined on baked chicken, yellow rice, green beans and lemon and chocolate cake. The event also featured a raffle with gifts totaling over $1,000.
"We had a great time," said resident Peggy Finley. "This event just keeps getting better and better."
The 2017 Valentine's Day Dance for Seniors was sponsored by Sedano's Supermarkets, AVE, El Dorado Furniture, FP&L, Bilzin Sumberg, Baena Price and Axelrod LLP, Calder Casino and Race Course, World Waste Recycling, and Tax Drz.