Commissioner Jordan hosts Family Fun Fit Day to promote wellness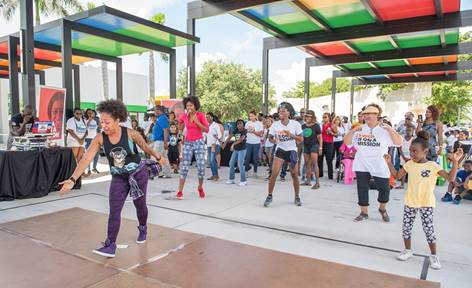 Vanessa Thompson of Be Dance Studio leads the crowd in a Zumba instruction demonstration at Commissioner Jordan's Family Fun Fit Day.
(Photo by Armando Rodriguez / Miami-Dade County)
MIAMI – Miami-Dade County Commissioner Barbara Jordan, the YWCA, and Live Healthy Miami Gardens co-sponsored Family Fun Fit Day on July 29 at the YWCA in Miami Gardens to promote health and wellness.
"I'm excited to see residents coming out with their families to have fun but also learn how they can achieve a healthier lifestyle," Commissioner Jordan said.
Family Fun Fit Day was spearheaded by Commissioner Jordan's Summer Youth Internship Initiative 2017 class. This year's students launched and organized the community service project. Dozens of residents also competed in games and received goodie bags at the free event.
Vanessa Thompson, of Be Dance Studio, encouraged children in the crowd to participate in her Zumba instruction demonstration. Catalyst Hip-Hop's dynamic dance performance and YWCA youth group's singing performance brought loud cheers from the audience. Miami-Dade Fire Rescue also was on hand to give a fire truck demonstration and tours to attendees.
Family Fun Fit Day was made possible by Live Healthy Miami Gardens, Be Dance Studio, Miami-Dade Public Library System, Train4Chainge, Miami-Dade Fire Rescue, Jessie Trice Community Health Center, YouFit Miami Gardens, Florida Department of Health, Miami-Dade Community Action Agency, YWCA, Catalyst Hip-Hop, TyTy's Kitchen, and Main Stop Grill.