Commissioner Jordan gives away over 700 turkeys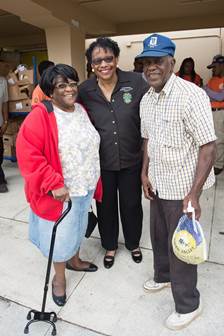 Commissioner Jordan greets two residents at her 13th annual turkey giveaway at Landmark.
(Photos by Ryan Holloway / Miami-Dade County)
MIAMI GARDENS – Miami-Dade County Commissioner Barbara J. Jordan hosted her 13th annual turkey giveaway at Landmark in Northwest Miami-Dade County on November 20. Commissioner Jordan, sponsors, and volunteers handed out about 720 turkeys to those in need, including churches, schools, and social organizations that serve the community.
"Because of our wonderful sponsors, we were able to give away over 700 turkeys," Commissioner Jordan said. "Every year, I work with organizations that help us reach out to residents who are the most in need."
That afternoon, Jordan and record mogul Ted Lucas teamed up to deliver Thanksgiving baskets with all the trimmings to several impoverished families in North Miami-Dade County.
Sponsors of the turkey distribution and door-to-door basket donations are Signature Flight Support, Odebrecht, World Waste Recycling, Miami Dolphins, Ted Lucas Foundation, and Atlantic Aviation.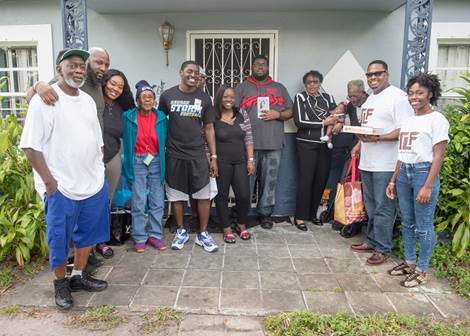 Commissioner Jordan, Ted Lucas, and Daniece Brady from the Ted Lucas Foundation deliver a Thanksgiving basket to the Herron family.