Commissioner Jordan celebrates $2.1 million workforce housing allocation from developer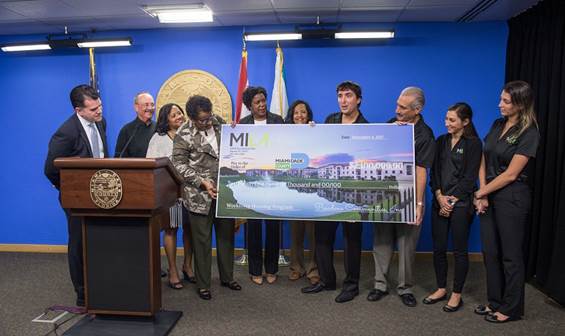 Pasadena at the California Club, LLC, presents a $2.1 million ceremonial check to Miami-Dade County. From left are Juan Mayol of Holland & Knight, Larry Silverster of P.A.C.T.
Affordable Housing Trust Fund Trustee Keenya Robertson of H.O.P.E, Inc.
and Shekeria Brown of SFCDC, Affordable Housing Trust Fund Chair Barbara "Bobbie" Ibara of Miami Homes for All, and representatives from Pasadena at the California Club, LLC.
(Photo by Armando Rodriguez / Miami-Dade County)
MIAMI – Pasadena at the California Club, LLC, presented a $2.1 million ceremonial check to Miami-Dade County at a Dec. 4 press conference held by Miami-Dade County Commissioner Barbara J. Jordan. The developer of the newly approved District 1 residential community will receive a substantial density bonus in exchange for the allocation to Miami-Dade County's Affordable Housing Trust Fund.
The Pasadena allocation to the County's AHTF is the first by a major developer since the passage of the amended Workforce Housing Development Program ordinance. The deposit will assist the County in acquiring, constructing, and rehabbing more workforce housing units in Miami-Dade County.
"The new Workforce Housing Development Program is a great mechanism for providing Miami-Dade County with additional resources needed to construct more workforce and affordable housing," Commissioner Jordan said. "I'm hoping this is only the beginning, and as more members of our local development community become familiar with incentives of the revised program they'll opt in and provide the much needed units and/ or make additional deposits to the Affordable Housing Trust Fund."
To view the press conference, visit Commissioner Jordan's Facebook page at www.facebook.com/commbarbarajordan.