Commissioner Jordan honors the late Melton Mustafa Sr.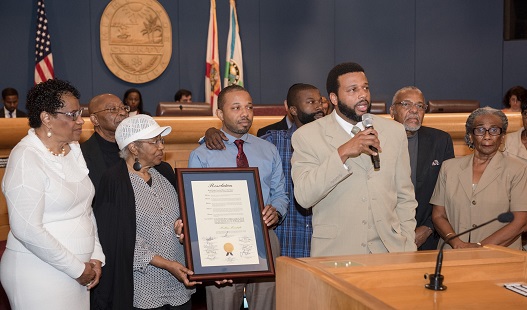 Members of the late Melton Mustafa Sr.'s family accept a sympathy resolution from County Commissioner Barbara J. Jordan. From left are Commissioner Jordan and Mustafa's brother-in-law Elmer Clark, wife Zakiyyah, sons Jihad Mustafa, Yamin Mustafa, Melton Mustafa Jr. (holding microphone), brother Jesse Jones Jr. and sister-in-law Thelma.
(Photo by Ryan Holloway / Miami-Dade County)
MIAMI GARDENS – Miami-Dade County Commissioner Barbara J. Jordan presented a sympathy resolution to the family of the late international jazz icon and South Florida legend Mr. Melton Mustafa Sr. at the Jan. 23 Board of County Commissioners meeting. The internationally renowned trumpeter, arranger, composer, producer and bandleader passed away on December 28 at age 70 after battling prostate cancer.

"Melton was not only a jazz legend, but also my friend and a longtime champion of music education in District 1," Commissioner Jordan said. "He was a remarkably humble man who was committed to helping youths in the community that he lived in for 45 years. He will be sorely missed."

His family attended the Commission meeting to accept the sympathy resolution and watch a December 2016 video of his father accepting a proclamation from the County Commission.

"His platform was helping other people. Even though he played with the greats, he was still very humble and loved to help any and every one," said his son Melton Mustafa Jr.


After leaving the Count Basie Orchestra, Mustafa Sr. became Director of Jazz Studies at Florida Memorial University (FMU), where he nurtured many young musicians over the years, discovering that educating and mentoring young musicians was one of his greatest passions.