Commissioner Jordan honors foster, adoptive, kinship & independent living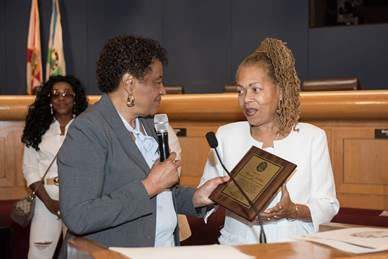 Commissioner Jordan presents Miami-Dade County Foster & Adoptive Parent Association President Shamele Jenkins an award at the Feb. 5 Commission meeting.
(Photos by Ryan Holloway / Miami-Dade County)


MIAMI – Nearly 150 people were honored by Commissioner Barbara Jordan and the Miami-Dade County Foster & Adoptive Parent Association on February 5. The 5th Annual Foster, Adoptive, Kinship & Independent Living Commemorative Ceremony, which took place in the Miami-Dade County Commission Chamber, honored men and women who care for and protect children who are in the state's system, as well as young adults transitioning from foster care to adulthood.
"My mom was a foster mom, and we had four adopted children in my family so I know the importance of what you do," Commissioner Jordan said. "I can't commend you enough for what you do every day. It saves the lives of children."
Carlos Lopez-Cantera, lieutenant governor of Florida, praised the honorees.
"Your decision to make a difference in a child's life makes a difference in society," he said. "It makes a difference in many lives."
Shamele Jenkins, President of the Miami-Dade County Foster & Adoptive Parent Association, presented awards to board members at her organization.
"Our volunteers don't get paid, but they do what they do because they care." Jenkins said.
Janeris and Wilfredo Marte, a married couple who reside in Miami Gardens, decided to become foster parents after experiencing medical issues while trying to conceive. Since 2013, they have fostered 13 children and have since adopted two girls, ages 2 and 4. "We're grateful for organizations like this. We've had amazing support," Janeris said.
"We're so grateful that God has given us this blessing and this gift to do what we do."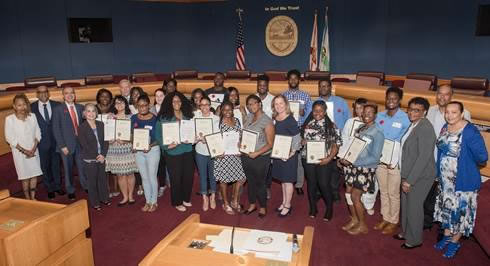 From left: Shamele Jenkins, president of the Miami-Dade County Foster & Adoptive Parent Association; George Sheldon, president of Our Kids of Miami-Dade, Inc.
(red tie); representatives from Our Kids and the Florida Department of Children & Families; Gilda Ferradaz, Deputy Regional Managing Director of DCF (gray suit);
independent living honorees; and Commissioner Jordan (at right)