Email: district2@miamidade.gov
Downtown Office
305-375-4833 Phone
305-375-4843 Fax
District Office
305-694-2779 Phone
305-694-2781 Fax
Last Visited »
Important Global Message
The Miami-Dade County Emergency Operations Center has been activated and is closely monitoring Erika. For any updates about County facilities and services, please visit: http://www.miamidade.gov/emergency
Welcome to District 2

Welcome to the District 2 website! I am honored to serve as your representative. District 2 encompasses portions of the City of Miami, North Miami Beach, Opa-locka, City of Hialeah and unincorporated areas of Liberty City, Biscayne Gardens and North Dade Central.
This website is your connection to County government. Visit here periodically to find out the latest information on County services, programs, and legislation that affects you. Please feel free to contact my office with any questions and concerns you may have - I am here to serve you.
Disaster Preparedness: Watch the Video
Be prepared during an emergency or disaster: Don't miss this educational video on disaster preparedness against natural and man-made hazards that can impact South Florida. It is important to be informed, make a plan, get a kit, and get involved.
Check out the video:
Farm Share Food Distribution Aug. 22
Chairman Monestime will team up with School Board member Dorothy Bendross-Mindingall, State Sen. Dwight Bullard and State Rep. Cynthia Stafford to present a Farm Share food distribution on Saturday, Aug. 22 from 9 a.m. to noon at Miami-Dade College North Campus Gymnasium, 11380 NW 27th Ave. The distribution will be on a first come, first served basis per family while supplies last.
Chairman Monestime experiences Denver's transit system
Chairman Monestime was in Denver Aug. 5-7 for the Destination Denver Transportation Fly-In with a delegation from Miami-Dade County including Mayor Carlos Gimenez, Commissioner Dennis Moss and new Transit Director Alice Bravo (pictured below with the Chairman aboard Denver's rail system). The fly-in was organized by the Greater Miami Chamber of Commerce to learn from Denver's successful transit system.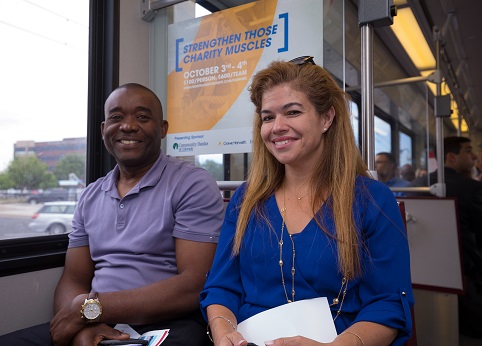 Chairman Monestime helps mark 50th anniversary of Voting Rights Act
Chairman Monestime is helping mark the 50th anniversary of the Voting Rights Act by urging residents to remain vigilant in protecting and exercising their right to vote. "The Voting Rights Act was a great victory for civil rights that aimed at overcoming persistent racial barriers that had prevented people in many states from freely exercising their Constitutional right to vote," he said. "In light of judicial and legislative setbacks to the Voting Rights Act and voting rights around the country, it is critically important that we remain vigilant to ensure full access to the polls and that the hard-won gains of 50 years ago are not diminished."
District 2 newsletter
Catch up on the latest news from District 2 and Chairman Jean Monestime in the June 2015 newsletter.
Chairman Monestime's statement on the death of former Miami-Dade Police Director Robert Parker
"I'm deeply saddened by the news of the death of former Miami-Dade Police Director Robert Parker. Director Parker was an inspiring leader who made history as the police department's first African American director after decades of dedicated service in the department. His death hit particularly close to home as he was also a resident of my district. On behalf of the Board of County Commissioners, I wish to offer my sincerest condolences to his family, his former colleagues in the Miami-Dade Police Department and all those who had the privilege to know and work with him."
Chairman Monestime's statement on Mayor's proposed budget
"The Proposed Budget appears to respond to calls by the County Commission to improve the quality of various services to our residents. That's a good start. While the operational budgets of many departments will increase, the overall strategic direction of county government remains uncertain. Ultimately, the county budget should be an expression of the shared vision of our commission. I look forward to hearing from the public, consulting with our community based organizations in service delivery, and working with my colleagues to define a collective vision for the future of our county."
Chairman Monestime leads County Commission in condemning Dominican Republic's deportation of those of Haitian descent
The Miami-Dade Board of County Commissioners on June 30 unanimously adopted Chairman Jean Monestime's legislation condemning the Dominican Republic's impending deportation of large numbers of Dominicans of Haitian descent and Haitian migrant workers.
Chairman Monestime backs President Obama's immigration relief programs
The Board of County Commissioners on June 2 approved a resolution sponsored by Chairman Monestime in support of President Obama's executive actions on immigration.
Jean Monestime sworn in as Chairman of the Miami-Dade County Commission
County Commissioner Jean Monestime was sworn in as Chairman of the Miami-Dade County Commission on Friday, Jan. 16 at a ceremony in which he pledged to tackle the problem of economic inequality and announced a new committee structure to better address the County's economic challenges.
Search for jobs and more on County's jobs site
Look for available jobs with Miami-Dade County, or through other job posting websites like Employ Florida, find out how your local library can help with your job hunt, sign up for e-mail notifications, and more.
Back to Top
Page Last Edited: Fri Aug 28, 2015 4:01:29 PM
district02
You are now leaving the official website of Miami-Dade County government. Please be aware that when you exit this site, you are no longer protected by our privacy or security policies. Miami-Dade County is not responsible for the content provided on linked sites. The provision of links to these external sites does not constitute an endorsement.

Please click 'OK' to be sent to the new site, or Click 'Cancel' to go back.