Commissioner Jean Monestime Unveils $53 Million Affordable Housing Development
Kings Terrace Serves as Model for Affordable Housing in Miami-Dade County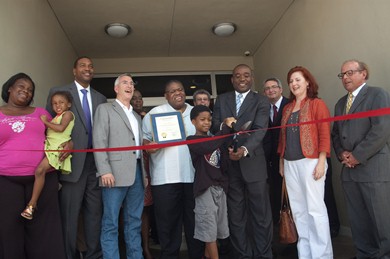 Commissioner Jean Monestime (center) cuts the ribbon to officially open the Kings Terrace affordable housing development on Feb. 14, 2013. Pictured (from left to right): Kings Terrace resident Christel Hamilton and daughter Christina, Deputy County Mayor Russell Benford, Pinnacle Housing Group's David Deutch, County Housing employee Clarence Brown, and Kings Terrace resident Joshua Hamilton.
Commissioner Jean Monestime, District 2, unveiled the Kings Terrace affordable housing development on Thursday, February 14, 2013. The $53.4 million, 300-unit development located at 12555 N.W. 27th Avenue, is currently 100% occupied.
"Thanks to this development, 300 families now have a place to call home," Commissioner Monestime said. "With its world-class amenities and public art, Kings Terrace has raised the bar for affordable housing in South Florida."
Each unit has fully-equipped kitchens with a frost-free refrigerator, dishwasher, ceiling fans and ceramic tile flooring. There is a fitness facility, library and business center with internet access, laundry room, club house, recreation center, basketball court, soccer field, playground, splash-park, vita-course and gazebo / covered BBQ and picnic area.
"This is high quality housing for the residents of District 2," Commissioner Monestime said. "I will work to replicate this standard of affordable housing in other areas in District 2."
The project was funded, in part, by $17 million from Miami-Dade County's Neighborhood Stabilization Program.