Commissioner Jean Monestime Honors Seniors on Valentine's Day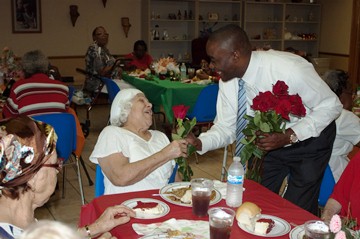 Commissioner Jean Monestime (right) presents a rose to a resident at Palm Towers Senior Center
on Feb. 14, 2013, as part of Commissioner Monestime's Valentine's Day senior luncheon.
Commissioner Jean Monestime, District 2, honored the residents of Palm Towers Senior Center, 950 NW 95th Street, with a Valentine's Day luncheon on Thursday, February 14, 2013.
During the luncheon, Commissioner Monestime personally served food and delivered roses to more than 50 senior residents at the facility.
"Valentine's Day is a day to celebrate those we love and cherish," said Commissioner Jean Monestime. "I could think of no better way to commemorate this day than to honor our senior citizens. They have given so much to our community over the years. Their devotion to our community deserves recognition."