Commissioner Jean Monestime distributes hundreds of book bags at annual back-to-school event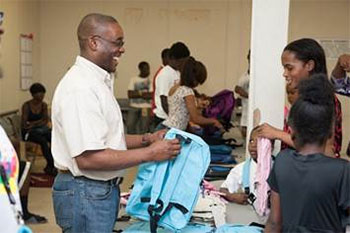 Commissioner Jean Monestime delivers free book bags and school supplies to residents at Oak Grove Park on Sunday, August 4 2013.
(Miami-Dade County, FL) -- On Sunday, August 4, 2013, Commissioner Jean Monestime distributed hundreds of free book bags to students in District 2 during his 2013 Back-To-School Book Bag Giveaway at Oak Grove Park, 690 NE 159th Street. Children also received free school supplies and books during the event.
At the book bag giveaway and family fun day, residents enjoyed music and a bounce house. The event was held in collaboration with Reading Explorers and Neighbors and Neighbors Association, Inc.