Commissioner Jean Monestime receives Guardian Angel Award from Gwen Cherry Park Foundation
MIAMI, FL – Miami-Dade County Commissioner Jean Monestime, District 2, received the Guardian Angel Award from the Gwen Cherry Park Foundation on Saturday, August 10, 2013. The award was presented during the Community Festival at Gwen Cherry Park, where hundreds of students received free book bags and school supplies.
The award was in recognition of Commissioner Monestime's long-standing support of the park and the NFL Youth Education Town (YET) Center located at the park. The award was presented by Gwen Cherry Park Foundation Board Members Erica N. Wright and Elaine Black.
"I am truly honored and humbled to receive this award from the Gwen Cherry Park Foundation," said Commissioner Monestime. "I believe that the best way to build a strong community is by investing in our children and providing them with the tools they need to reach their full potential."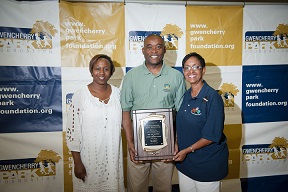 Photo by Ryan Holloway
Commissioner Jean Monestime (center) receives the Guardian Angel Award from the Gwen Cherry Park Foundation on Saturday, August 10. Erica N. Wright (l) and Elaine Black (r), both members of the Gwen Cherry Park Foundation Board of Directors, presented the award