Commissioner Monestime honors outstanding residents

Left: Miami playwright Tarell McCraney accepts his proclamation from Commissioner Monestime. Right: Lexington "Flex" Joseph is honored at the Feb. 4 County Commission meeting.
(Photos by Armando Rodriguez / Miami-Dade County)
MIAMI, FL – County Commissioner Jean Monestime honored two outstanding Miami-Dade County citizens and a spectacular youth sports team at the February 4, 2014 Board of County Commissioners meeting.
Commissioner Monestime presented a proclamation to award-winning Miami playwright and actor Tarrel McCraney and the Gwen Cherry Bulls youth football team, as well as a congratulatory certificate to teen student athlete Lexington "Flex" Joseph.
Mr. McCraney's inventive adaptation of Shakespeare's "Antony and Cleopatra," which is set in pre-revolutionary Haiti, is currently playing to rave reviews at the Colony Theater in Miami Beach. An ensemble member of the Steppenwolf Theatre Company, Mr. McCraney was named a MacArthur Fellow in 2013 and was an international writer in residence for the Royal Shakespeare Company and a Hodder Fellow at the Lewis Center for Arts at Princeton. He attended the New World School of the Arts and received his Bachelor of Fine Arts from DePaul University and his Master of Fine Arts from Yale University.
Lexington was the only 7th grader to represent Miami-Dade County and one of only three 7th graders to represent Florida in the annual Eastbay Youth All-American Bowl on Sunday, January 5, 2014 in San Antonio, Texas. Only the nation's top 48 youth football athletes spanning three age groups received the invitation to take the field in San Antonio to participate in the game. Lexington plays for Northside Optimist Club and is a student at Horace Mann Middle School with a 3.0 GPA. Lexington has set his sights on becoming an astronaut.
The Gwen Cherry Bulls won the 2013 Pop Warner Jr. Pee Wee (105 lbs) national champion football title. Under the supervision of Boys & Girls Club on-site director O.J. Miller and Coach Javon Ferguson, the team went undefeated with a record 14-0-1 on the road to the title.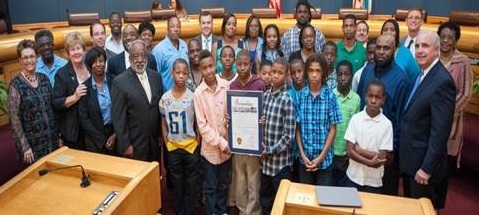 Commissioner Monestime honors the Gwen Cherry Bulls at the Feb. 4 County Commission meeting.