Commissioner Monestime honors three outstanding citizens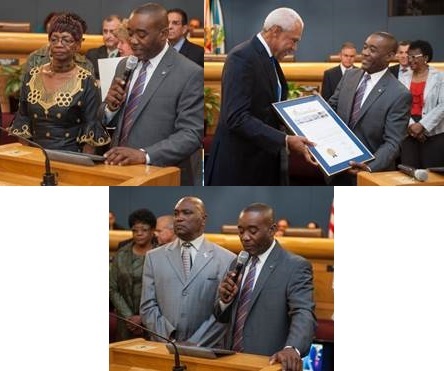 From left to right, Commissioner Monestime honors Dr. Shirley Johnson, George F. Knox, Esq. and former North Miami City Councilman Jacques Despinosse at the Feb. 19 County Commission meeting.
Photos by Armando Rodriguez / Miami-Dade County photographer
MIAMI, FL – Miami-Dade County Commissioner Jean Monestime honored three outstanding Miami-Dade citizens at the Feb. 19 County Commission meeting in commemoration of Black History Month.
"Black History Month is a month set aside to learn about the struggle, to honor the courage and to celebrate the achievements of black men and women throughout history," said Commissioner Monestime.
Dr. Shirley Johnson, Attorney George F. Knox and former North Miami City Councilman Jacques Despinosse were all presented with proclamations commemorating their important contributions to the community.
Dr. Johnson, a longtime educator, civil rights activist and author, serves as Supervisor of Curriculum and Instruction for Miami-Dade Public Schools and is the Vice President of the NAACP Miami-Dade Branch overseeing the Youth and College Division. The goddaughter of slain civil rights leader Medgar Evers, Dr. Johnson attended Martin Luther King Jr.'s 1963 "I Have a Dream" speech as a teenager, which has been a source of great inspiration in her life.
Mr. Knox is one of Miami's most respected business community leaders and has been instrumental in shaping South Florida's diverse economic landscape. A founding member of the Miami Sports and Exhibition Authority, he participated in the effort to attract and secure an NBA franchise for Miami (the Miami Heat) and was also part of the team that helped to bring major league baseball to South Florida. Mr. Knox, who was the first African American to join the faculty of the University Of Arkansas School Of Law and the first person of color to serve as a Department Head and as City Attorney for the City of Miami, now works as a visiting faculty member at the Florida International University College of Law and Director of Non-Litigation Advocacy Programs with the Center for Professionalism and Ethics.
Councilman Despinosse, who served on the North Miami City Council from 2001 to 2009, is president of the Haitian American Leadership Coalition and has been a strong immigration advocate for the Haitian community. As host of "Radio Citizen" and founder of the Haitian American Citizenship & Voter Education Center, Inc., he helped countless Haitian immigrants become U.S. Citizens and registered voters. Councilman Despinosse has held a number of distinguished political posts, including United States Presidential Observer Delegate to the Elections in Haiti in 1995, member of the Host Steering Committee of the Summit of the Americas in 1994 and delegate to the Democratic National Convention in 1988, 1992, 1996, 2000 and 2004.