Commissioner Jean Monestime dedicates new senior recreational facility at Arcola Lakes Park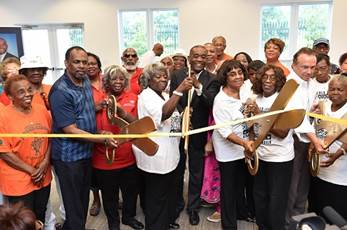 Commissioner Jean Monestime, center, joins local seniors and County officials at the ribbon-cutting of the new Senior Center at Arcola Lakes Park.
(Photos by Armando Rodriguez / Miami-Dade County photographer)
(MIAMI, FL) – Miami-Dade County Commissioner Jean Monestime, District 2, joined the Miami-Dade County Parks, Recreation and Open Spaces Department on July 30 to dedicate the newly completed Senior Center at Arcola Lakes Park, 1301 NW 83rd St.
The new 14,220-square-foot center is Miami-Dade County Parks' first recreational facility specifically built for seniors. It features state-of-the-art recreational amenities designed for older adults and is completely ADA accessible. It will host activities for Miami-Dade County Parks' free health and wellness program for seniors, presented in conjunction with the Health Foundation of South Florida.
The building features a covered passenger drop-off entrance, a lobby and reception area, an exhibits hallway with built-in display cases, entertainment rooms with flat screen televisions and table games, an arts and crafts room, a ceramics room with a kiln, an exercise room furnished with fitness equipment, staff offices, a lifeguard and first-aid station, men's and women's restrooms with locker and shower facilities, a banquet-meeting hall, and a portable performance stage for special events. The new facilities also include an outdoor heated therapeutic pool and whirlpool spa surrounded by 8,324 square feet of deck space and a covered porch with lounge chairs. The grounds feature native landscaping, walkways and lighted parking.
"This new facility will help seniors stay fit and healthy well into their retirement years, and I'm very proud to have it in my district," Commissioner Monestime said.
Funding for the $5.6 million project was provided by the Building Better Communities General Obligation Bond Program and the Quality Neighborhood Improvement Program.
For more information about programming at Arcola Lakes Park, visit www.miamidade.gov/parks or call (305) 836-5095.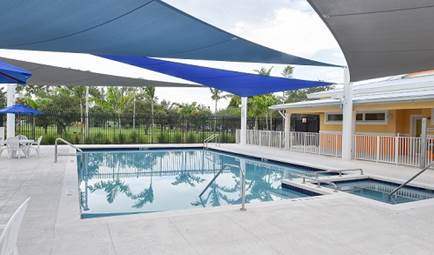 This outdoor heated therapeutic pool and whirlpool spa are among the new amenities for seniors at Arcola Lakes Park.