Jean Monestime takes oath as Chairman of the Board of County Commissioners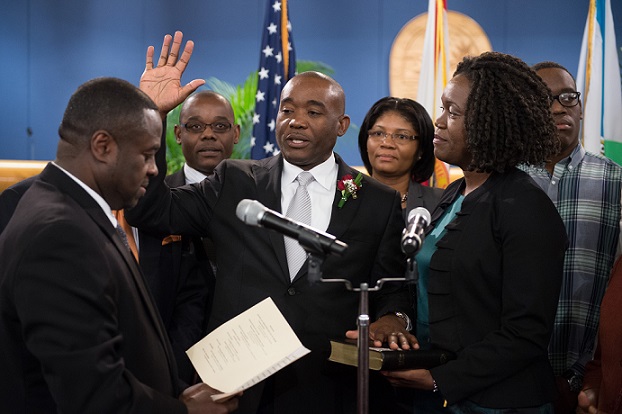 Pastor Leslie Moise of the Mitchellville Seventh Day Adventist Church in Maryland, left, administers the oath of office to Chairman Monestime as his wife Kettia holds the Bible.
(Photo by Ryan Holloway / Miami-Dade County)
(MIAMI-DADE, FL) – Miami-Dade County made history today when Jean Monestime, the first Haitian-American to serve on the Board of County Commissioners, took the oath as Chairman and pledged to tackle the problem of economic inequality as someone who understands the struggles of the poor.
"Several decades ago, I arrived on the shores of Miami-Dade County as a teenage immigrant seeking a better life. Several decades later we are here experiencing the transformative power of the American Dream," said Chairman Monestime, who was unanimously elected as Chairman by his colleagues in November. "To the families and individuals in this community who are struggling to make ends meet, I understand the challenges you face."
To address the income gap, he announced the creation of a new committee structure and a Chairman's Council for Prosperity Initiatives.
Speaking to a Chamber packed with supporters, dignitaries and family members, Chairman Monestime said the County is up to the challenge of addressing its problems.

"Our diversity is our strength. Our common goal is to build a stronger and most prosperous Miami-Dade County. Now is our time," he said.

Newly installed Vice Chairman Esteban Bovo Jr. also took the oath of office.