Chairman Monestime kicks off Black History Month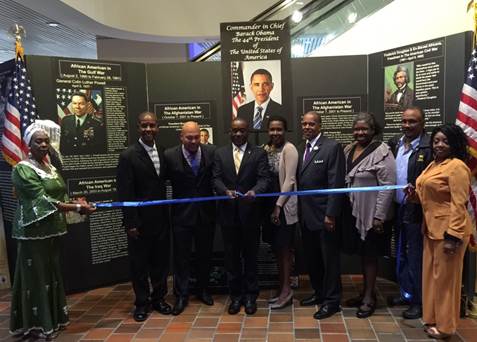 Chairman Monestime, joined by members of the Black Affairs Advisory Board, cuts the ribbon in front of the Kinad Inc. African American exhibition in the Stephen P. Clark Center to kick off the County's Black History Month celebrations.
(Photos by Griselle Marino / Office of Chairman Monestime)
(MIAMI-DADE, FL) – Miami-Dade County Commission Chairman Jean Monestime kicked off the County's month-long celebration of Black History Month on Feb. 5 at a musical and cultural extravaganza in the Stephen P. Clark Center in downtown Miami.
The event featured traditional African dress, a rousing performance by "The Singing Angels," and a libation ceremony by Chief Joseph Obadeyi Loki Abejoyi of Igbori of Nigeria.
Chairman Monestime invited residents to celebrate the contributions of African-Americans not only during Black History Month but throughout the year, and to emulate history's great black leaders by advocating for justice throughout their lives.
"Let's follow in their footsteps so we can help create a better life for the people we serve so tomorrow your children and grandchildren will celebrate you," Chairman Monestime said.
The County's Black History Month celebrations are sponsored by the Office of Chairman Monestime, the Black Affairs Advisory Board and the Miami-Dade Parks, Recreation and Open Spaces Department.
For a full schedule of Black History Month events, click here.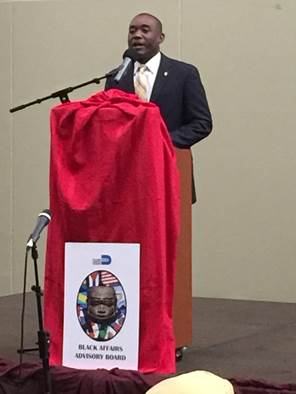 Chairman Monestime speaks at the Black History Month kickoff event.