Chairman Monestime helps advance Miami-Dade agenda in Tallahassee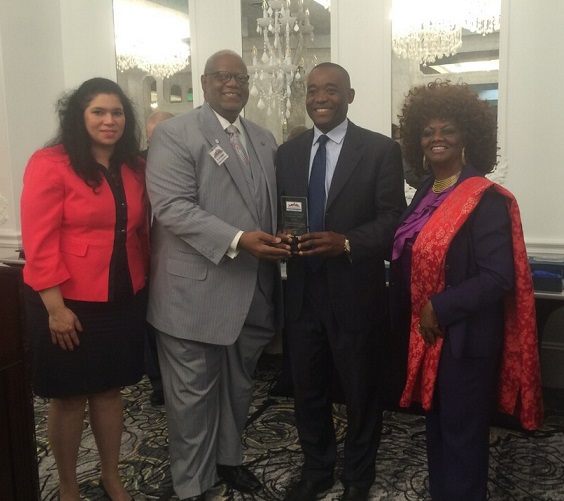 Chairman Monestime accepts the Dr. Robert M. Ingram Diversity Award at the Miami-Dade Days Luncheon. Presenting the award, from left, are Miami-Dade County School Board members Lubby Navarro, Wilbert "Tee" Holloway and Dorothy Bendross-Mindingall.
(MIAMI-DADE, FL) – Miami-Dade County Commission Chairman Jean Monestime helped advance the County's legislative agenda April 8-9 as part of the annual Miami-Dade Days trip to Tallahassee.
Chairman Monestime met with top state officials – including Lt. Gov. Carlos Lopez-Cantera, future House Speaker Jose Oliva, Miami-Dade delegation chairwoman Sen. Anitere Flores, and delegation vice chairman Rep. Jose Felix Diaz – to discuss ways to advance public transportation, economic development and other critical priorities in the County.
In his meeting with Lt. Gov. Lopez-Cantera, Chairman Monestime discussed promoting Miami-Dade as an international trade hub, as well as utilizing tourist development taxes to fund new transit initiatives. In another meeting with Rep. Oliva, Chairman Monestime and Beacon Council President Larry Williams stressed the need to reauthorize the State Enterprise Zone Program, which has been essential in attracting jobs to disadvantaged neighborhoods.
"We had some very productive discussions on a number important issues that will help ensure that Miami-Dade's critical needs are addressed at the state level," Chairman Monestime said. "I want to thank the Miami-Dade delegation for all its hard work on behalf of the County, and I'm looking forward to continuing to strengthen our relationship as we work to improve the lives of the residents of Miami-Dade."
During his visit to Tallahassee, Chairman Monestime was presented with the Dr. Robert M. Ingram Diversity Award by the Miami-Dade County School Board during the Miami-Dade Days Luncheon.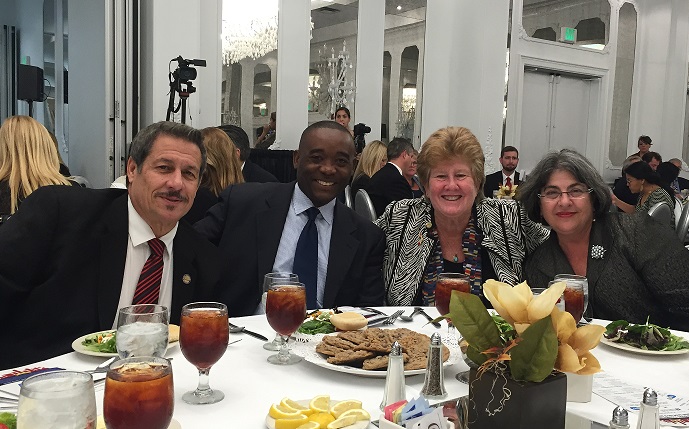 Left: Chairman Monestime at the Paella Fest in Tallahassee with Doral City Councilwoman Ana Maria Rodriguez, State Sen. Anitere Flores and Miami-Dade Mayor Carlos Gimenez. Right: Chairman Monestime at the Miami-Dade Days Luncheon with Commissioners Jose "Pepe" Diaz, Sally Heyman and Daniella Levine Cava