Abigail Price-Williams makes history as County's top attorney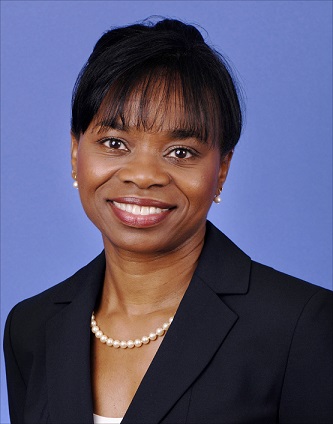 ABIGAIL PRICE-WILLIAMS
(MIAMI-DADE, FL) – Abigail Price-Williams has made history by becoming the first African-American and first woman to be named as Miami-Dade County's top attorney. The doubly historic appointment took place at the April 21 Board of County Commissioners meeting.
Commission Chairman Jean Monestime sponsored the move to appoint Price-Williams, who currently serves as First Assistant County Attorney, to replace retiring County Attorney Robert Cuevas effective Oct. 1. Her appointment was unanimously approved by all Commissioners at the meeting, who took turns expressing their praise and congratulations.
Cuevas, who has been with the County Attorney's Office almost 45 years, took the opportunity to praise his successor and her ascension to the County's top legal post.
In an emotional impromptu speech, which was greeted by a standing ovation, Price-Williams thanked the Board, her family and her predecessor for their support, and credited God with her success. "I don't stand here by my own strength; it's by God's grace that I'm here," she said. "I'm blessed by your recognition of me and I'm also blessed by having this community support me."

Price-Williams has been with the County for more than 25 years. Her prior work experience includes serving as an Assistant State Attorney for five years. She earned her law degree from the University of Miami in 1984 and her undergraduate in political science from Howard University in 1981. Some of her many achievements include being a recipient of the Florida Bar President's Pro bono Service Award and the Put Something Back Pro Bono Award for the Child Advocacy Project, as well as serving as co-chair of the Voices for Children Foundation Annual Luncheon. Price-Williams has also been named Attorney of the Year by the 11th Judicial Circuit Guardian Ad Litem Pro Bono and recognized by the South Florida Legal Guide as a Top Government Attorney. She is a current member of the United Way Women's Council.
The Miami-Dade County Attorney's Office has a budget of more than $20 million, with 134 staffers, including 72 attorneys. The office provides legal representation to the Mayor, the 13-member Board of County Commissioners, the Property Appraiser, the Public Health Trust, the 25 county departments and numerous boards, authorities and councils.
Editor's note: The video of the April 21 Commission meeting is available at miamidade.gov/wps/portal/Main/webcasting.