Felix Varela High and Oak Grove Elementary take the top prizes at Chairman Jean Monestime's Fourth Annual Haitian History Bee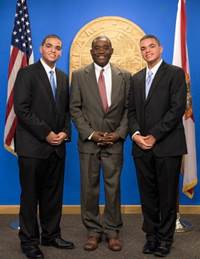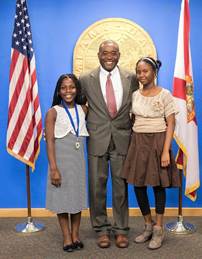 Chairman Jean Monestime congratulates the winners of the Fourth Annual Haitian History Bee. Pictured at left are twin brothers Gabriel and Ezekiel Vergara from Felix Varela Senior High. At right are Dulande Mercius (with medal) and Jose Forestal from Oak Grove Elementary.
(Photos by Armando Rodriguez / Miami-Dade County)

(MIAMI-DADE, FL) – Felix Varela Senior High School and Oak Grove Elementary were the big winners of Miami-Dade County Commission Chairman Jean Monestime's Fourth Annual Haitian History Bee Championship held on May 27 at the Stephen P. Clark Center in downtown Miami.
The two schools each won the top spot in their respective categories. Twin brothers Gabriel and Ezekiel Varela competed on behalf of Felix Varela Senior High while Oak Grove was represented by Dulande Mercius and Jose Forestal. In addition to trophies, each of the four winners received an iPad-mini courtesy of the Miami Dolphins Foundation.
The young contestants spent two hours facing off with their peers on questions regarding Haitian history.
"This world is becoming a lot more global, so it's important to encourage young people to learn about and understand different cultures through events like this," Chairman Monestime said. "They all did an outstanding job."