Chairman Jean Monestime and Office of Community Advocacy host naturalization ceremony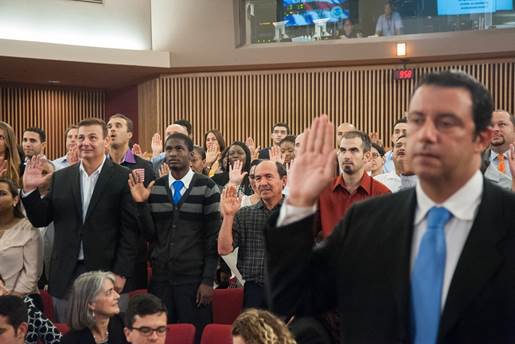 Chairman Monestime joins scores of new citizens as they take the citizenship oath at a naturalization ceremony in the County Commission chamber.
(Photos by Armando Rodriguez / Miami-Dade County)
(MIAMI-DADE, FL) – Miami-Dade County Commission Chairman Jean Monestime, the Board of County Commissioners and the Miami-Dade Office of Community Advocacy hosted a naturalization ceremony on June 12 in the County Commission chamber as scores of new citizens took the citizenship oath.
Chairman Monestime recalled his own journey from immigrant to County leader as he urged the crowd of new Americans to give back.
"As you become successful and enjoy the opportunities offered by this great country of ours, I pray that you find it in your heart to give back to the next generation of Americans, and strive to be a model citizen to all immigrants and refugees that may arrive in this country," Chairman Monestime said.
The ceremony took place in conjunction with World Refugee Day celebrations featuring musical performances and other activities in the Stephen P. Clark Center lobby.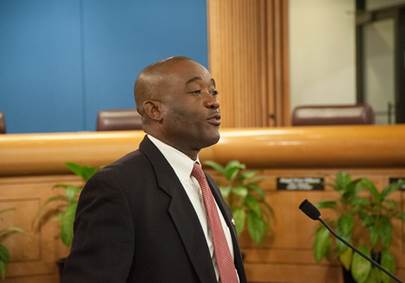 Chairman Monestime welcomes new citizens at the naturalization ceremony.