County Commission adopts Chairman Monestime's legislation condemning Dominican Republic's planned deportation of Dominicans and migrants of Haitian descent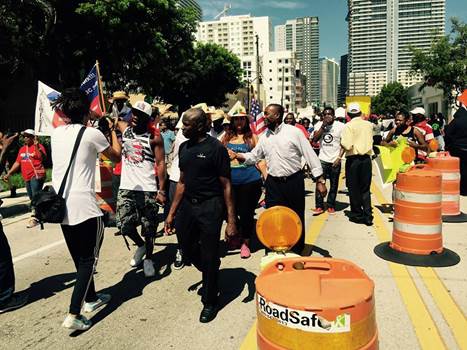 Chairman Jean Monestime participates in a June 25 Miami protest march from the Consulate of Dominican Republic to the Consulate of Haiti.
(Photo by Griselle Marino / Office of the Chair)
(MIAMI-DADE, FL) – The Miami-Dade Board of County Commissioners on June 30 unanimously adopted Chairman Jean Monestime's legislation condemning the Dominican Republic's impending deportation of large numbers of Dominicans of Haitian descent and Haitian migrant workers.
A 2013 Dominican Republic court decision stripped the citizenship of more than 200,000 Dominicans born after 1929 to parents not of Dominican ancestry. The Dominican Republic subsequently passed a law creating a naturalization process for Dominicans of Haitian descent and a regularization process for Haitian migrant workers, but both processes are riddled with bureaucratic hurdles that could soon lead to mass deportations following a June 17 deadline, as well as create a category of second-class citizenship for those of Haitian descent who remain in the country.
Chairman Monestime's resolution urges the Dominican government to overturn its 2013 decision, stop the deportations and comply with international law.
"Last Thursday, I was proud to join hundreds of Miamians in a peaceful march to call on the Dominican government to stop these racially motivated deportations and restore the rights of citizens of Haitian ancestry," Chairman Monestime said. "I thank my colleagues on the Board for joining me in condemning the Dominican government's outrageous conduct toward citizens and migrants of Haitian descent."