Young Woman Achiever scholarships awarded by the Commission for Women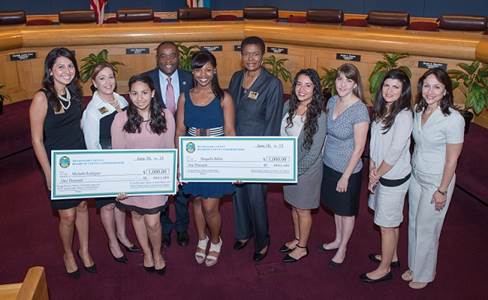 Miami-Dade County Commission Chairman Jean Monestime and the Commission for Women present $1,000 scholarships to Young Woman Achiever award recipients Michelle Rodriguez and Shaquell Ballou.
(Photo by Ryan Holloway / Miami-Dade County)
(MIAMI-DADE COUNTY, FL) – The Miami-Dade County Commission for Women recently presented its inaugural "Young Woman Achiever" scholarships to two outstanding graduates of the Young Women's Preparatory Academy.
The $1,000 scholarships were awarded to Michelle Rodriguez and Shaquell Ballou at the June 30 Board of County Commissioners meeting. Ms. Ballou will be attending the University of Florida, and Ms. Rodriguez will be attending Mount Holyoke College. The funding for the scholarship awarded to Ms. Rodriguez was generously donated by North Miami Mayor Dr. Smith Joseph.
The Young Women's Preparatory Academy, Miami-Dade County's public magnet school for girls, is consistently ranked as one of the top 100 high schools in the United States. The Commission for Women has developed a partnership with the school and plans to continue awarding annual scholarships to its graduates.
Created in 1971, the Commission for Women falls under the purview of the Office of Community Advocacy, a division of the Office of the Chair, and serves as an advisory board to the Board of County Commissioners, the County administration and the public at large about issues pertaining to the status of women. The Commission for Women also advocates for women in the community and strives to improve their quality of life. For more information, contact the Commission for Women at (305) 375-4967 or CFW@miamidade.gov, or visit www.miamidade.gov/advocacy/women-board-home.asp.
# # #
It is the policy of Miami-Dade County to comply with all of the requirements of the Americans with Disabilities Act. The facility is accessible. For sign language interpreters, assistive listening devices or materials in accessible format, please call 305-375-4967 at least five days in advance.