Assistant County Attorney Cynthia Johnson-Stacks appointed chair of Florida Bar board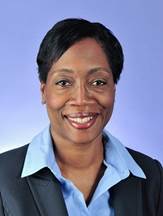 Cynthia Johnson-Stacks
(MIAMI-DADE, FL) – Cynthia Johnson-Stacks, assistant county attorney in the Miami-Dade County Attorney's office, has been appointed by Florida Bar President Ramón Abadin to serve as chair of the 2015-16 Florida Bar Board of Legal Specialization and Education (BLSE), a 17-member board that oversees the Bar's board certification program, continuing legal education accreditation and compliance.
"This appointment is further testament to the fact that Miami-Dade County Attorney's Office is the best law firm in the state, and I congratulate Ms. Johnson-Stacks on being chosen for this prestigious position," said Miami-Dade County Commission Chairman Jean Monestime.
Johnson-Stacks, who joined the County Attorney's Office in 1983, is the Section Chief of the Social Services and Public Health Trust section of the Miami-Dade County Attorney's Office. She is starting her sixth year on the BLSE and has been recognized by the Florida Bar as an expert in City, County and Local Government Law since 1998.
"This appointment recognizes Cynthia's leadership in the legal community and brings honor to the County Attorney's Office," said Miami-Dade County Attorney Robert A. Cuevas Jr.
Johnson-Stacks is a founding member and former president of the organization now known as the Gwen S. Cherry Black Women Lawyers Bar Association, Johnson-Stacks is active in local bar associations and has served on judicial nominating commissions responsible for recommending lawyers to serve on the federal and state trial benches and the state appellate bench. She is currently a member of the Florida Federal Judicial Nominating Committee, Southern District Conference, which recommends persons to be appointed in Florida as federal district court judges, the U.S. Attorney, and the U.S. Marshall.