County Attorney Robert Cuevas Jr. retires after long service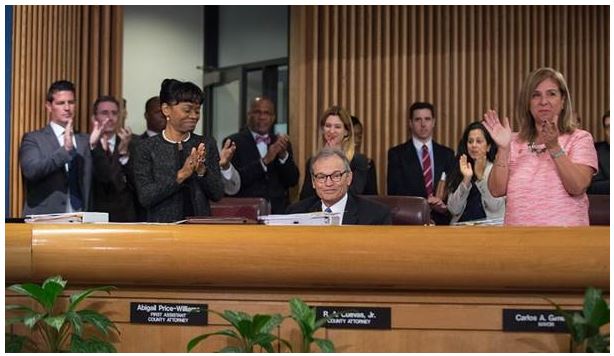 Miami-Dade County Attorney Robert Cuevas Jr. is applauded by his colleagues at the Sept. 16 County Commission meeting as he retires after 45 years of service in the County Attorney's Office.
(Photos by Ryan Holloway / Miami-Dade County)
(MIAMI-DADE, FL) – Miami-Dade County Commissioners on Sept. 16 bid a fond farewell to County Attorney Robert Cuevas Jr., who is retiring after eight years of service as Miami-Dade County's top attorney and 45 years in the County Attorney's Office.
Cuevas first joined the County's legal staff in 1970 and rose through the ranks as a litigator and transactional lawyer, trying numerous cases on behalf of the County before state and federal court, including the U.S. Supreme Court. He also guided the County through such important projects as construction of the Metrorail and Metromover systems, for which he handled nearly all the related land acquisitions.
At the Sept. 16 County Commission meeting, which was Cuevas' last as County Attorney, Commissioners took turns praising his service in sometimes emotional remarks.
"It would take too long to list all of Mr. Cuevas' many accomplishments, but on behalf of this Board of County Commissioners, I would like to say thank you for your many years of leadership, integrity and dedicated service to this County and its residents," Miami-Dade County Commission Chairman Jean Monestime said.

Retiring County Attorney Robert Cuevas Jr., center, is honored by County Commissioners, colleagues and staff.